While the world outside is covered in snow we are stuck indoors. I am sick of seeing white everywhere and want a change of scenery. Hoping that this is the last of the season and without further cribbing, I will quickly move on to the recipe.
There was a time when broccoli was a vegetable that I would run past as fast as my legs could carry me. I have never seen a broccoli before I came here to the US but that does not explain why it was not appreciated. My introduction came in the form of a soggy mess usually. It took a while to get over that and try it as the kids and DH seem to like eating it even raw. But my preferred ways of eating them are
broiled/roasted with spices
. Once roasted they can be used in recipes like this
broccoli rice with corn and peanuts
.
As I started to buy more broccoli I quickly realized how versatile the vegetable actually is. It does not deserve all the
Presidential contempt
it got. No just that president, there are a lot of people who like dissing the vegetable which sadly included me not too long ago.
Anyway now that I got to the other side I have come to like them if they are cooked the right way. The right way in my dictionary is that the broccoli should not be soggy and retain a bit of their crunch. When they are shredded raw and added to the dosai batter (I bet it would work perfect in pancake batter as well) and even after it is cooked there is a slight crunch which is what makes this oothappam special. Mix up the broccoli to give a change to the usual plain or onion oothappams.
It is not pretty looking but I assure you it is one tasty breakfast to start off the day with.
Chop and get the vegetables ready.
Use a vegetable chopper or shredder and chop them into fine pieces.
Mix the shredded vegetables with the batter.
Heat a griddle and add a laddle of batter and spread it into a circular shape slightly thick. Drizzle some oil on the edges, flip and cook on the other side.
Serve hot with some spicy chutney on the side.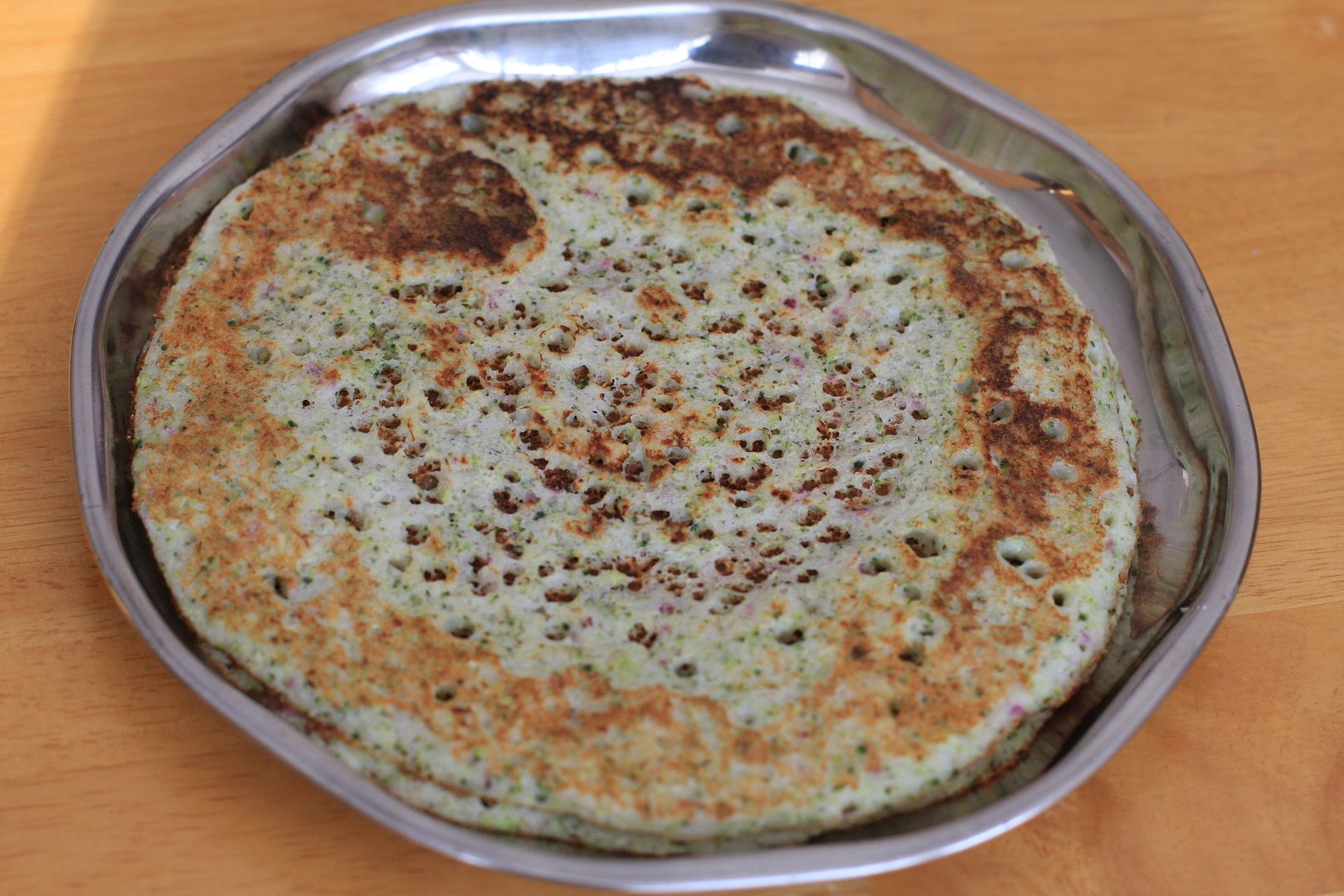 Broccoli and Onion Oothappam
Preparation Time:10 minutes
Cooking Time:20 minutes
Ingredients


few days old idli/dosai batter (about 4-6 cups)
1 or 2 heads of broccoli roughly chopped, peel the woodsy parts and keep ready
1/2 onion
1 tbsp of grated ginger
2-3 green chilies
salt to taste


Method


Use a food processor or a hand held chopper and chop the broccoli, onion and green chillies to fine pieces.
Mix the fine processed vegetables and ginger to the dosai batter. Add salt if required.
Heat a griddle and add a laddle of batter and gently spread it to a circle. It is spread a bit thicker.
Drizzle some oil on the edges and let it cook on one side. Flip and cook on the other side.
Serve hot with a spicy chutney.
Like what you are reading? Subscribe!