Roasting vegetables especially root vegetables in the winter time is a good thing. Recently I have been trying to use vegetables that I have seen and heard about but never tried. Jerusalem Artichoke being one and Jicama being the other.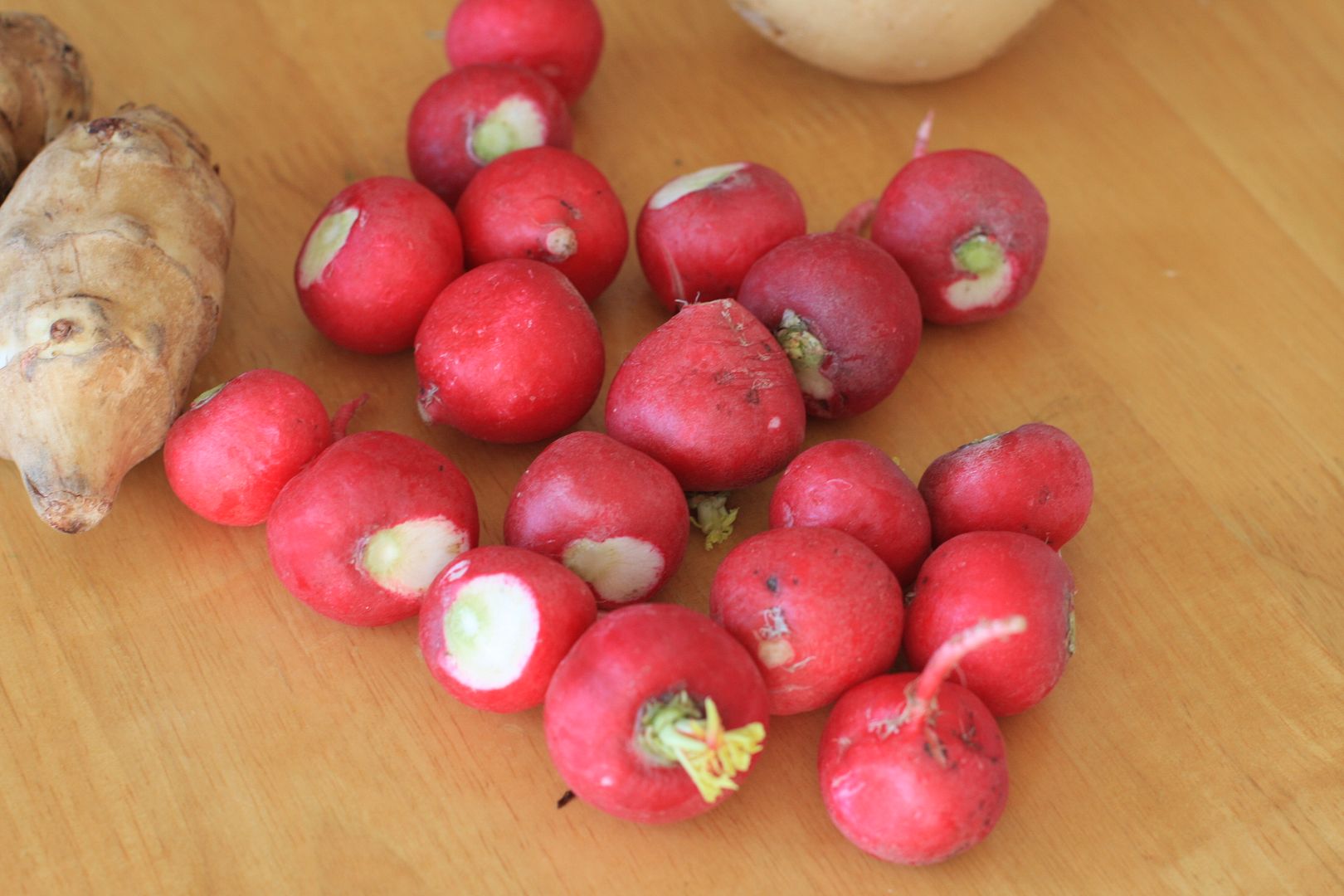 Radishes need no introduction
Jerusalem Artichoke I found out is native to North America and the name is perhaps a corruption of girasola meaning 'turning to the sun' in Italian and articiocco' meaning 'edible'. It has been grown in North America about 500 years ago.
Source.
It looks like ginger and that is exactly what DH told the check out clerk. It tastes nothing like ginger. It tastes a little bit like artichoke as the name suggests and tiny bit like potatoes. I have tried them in biryanis in place of potatoes and they were just perfect. They take on a slight sweetness when cooked.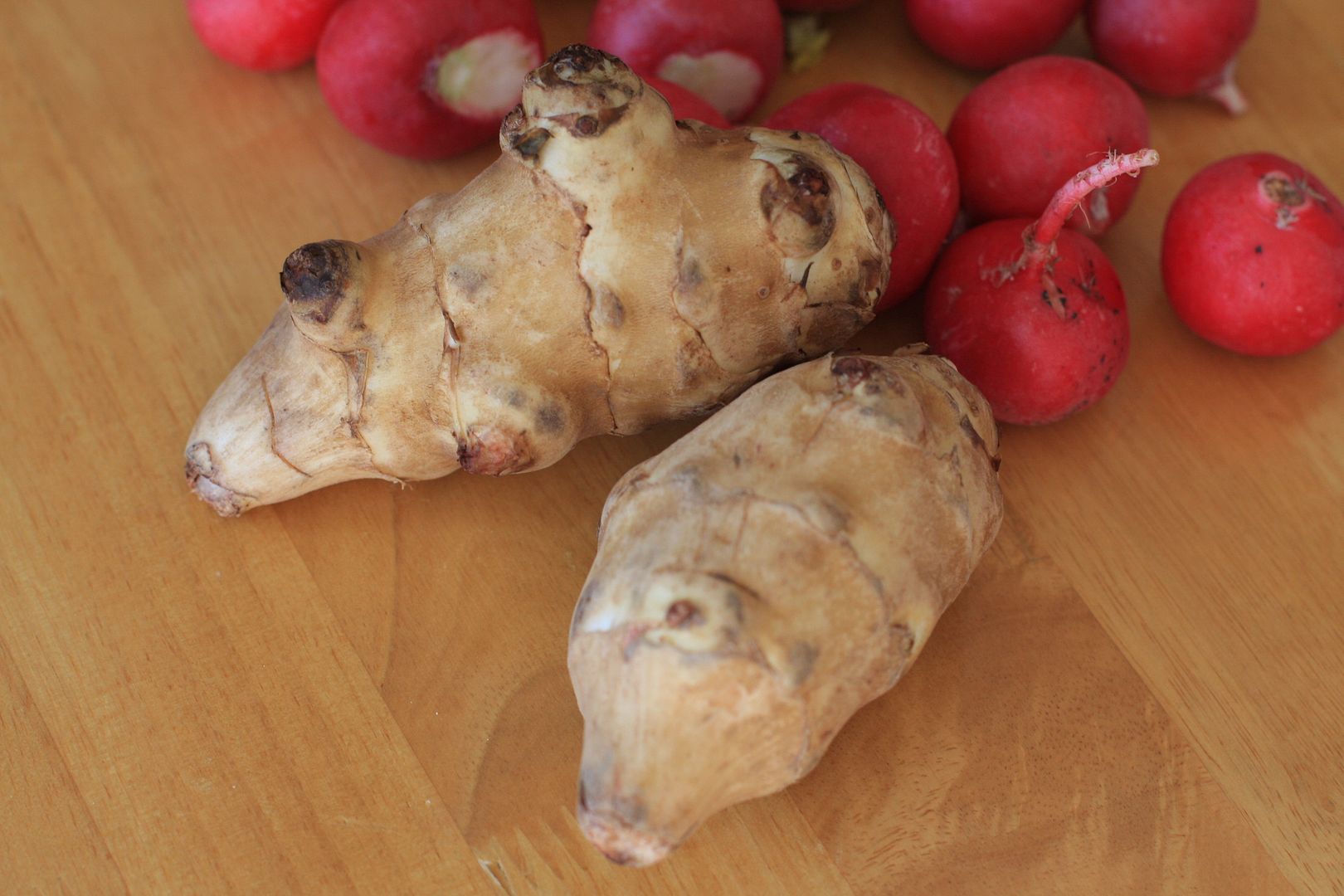 Introducing Jerusalem Artichoke
Jicama on the other hand is a vegetable that I have been trying hard to like. I was offered a salad that was made with Jicama and happily jumped to have a go, turned out that I was not very fond of it. Jicama for starters, the texture is like that of celery or water chestnuts and the taste is like that of raw apple. I do not like the above mentioned celery or water chestnuts and tend to pick them out even in soups. So no surprises that I did not take to them.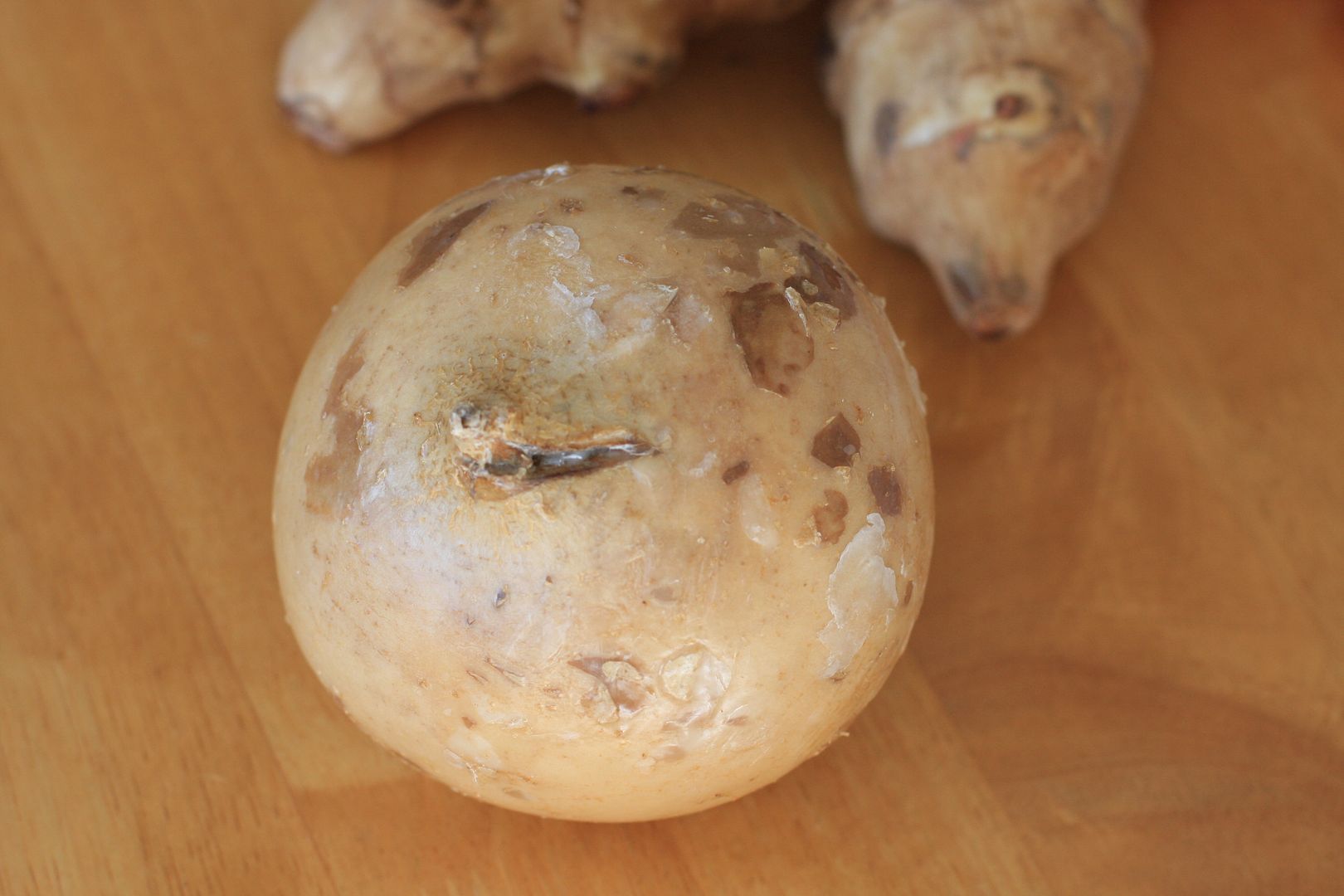 Introducing Jicama
So the next attempt was to roast them along with radishes surprisingly which I have taken a strong liking to especially when roasted. The Jerusalem Artichoke my new found vegetable also tastes great when roasted. Alas after the first couple of eager slices Jicama is not something I like very much. If you on the other hand are fond of celery or water chestnuts this is a vegetable you must try raw or roasted.
These roasted vegetables were perfect for the Carbohydrate Free day last week. Remind you again Carbohydrate Free diet for me includes starchy vegetables but not grains.
Peel the Jerusalem Artichoke and slice them.
Peel the Jicama and slice them.
Toss the sliced vegetables with olive oil, salt and chili powder.
Spray a baking sheet with oil .
Spread the vegetables in a single layer and roast in a 400F preheated oven for 20 minutes.
20 minutes should be sufficient but if you want it a bit more crispy bake for another 5-10 minutes.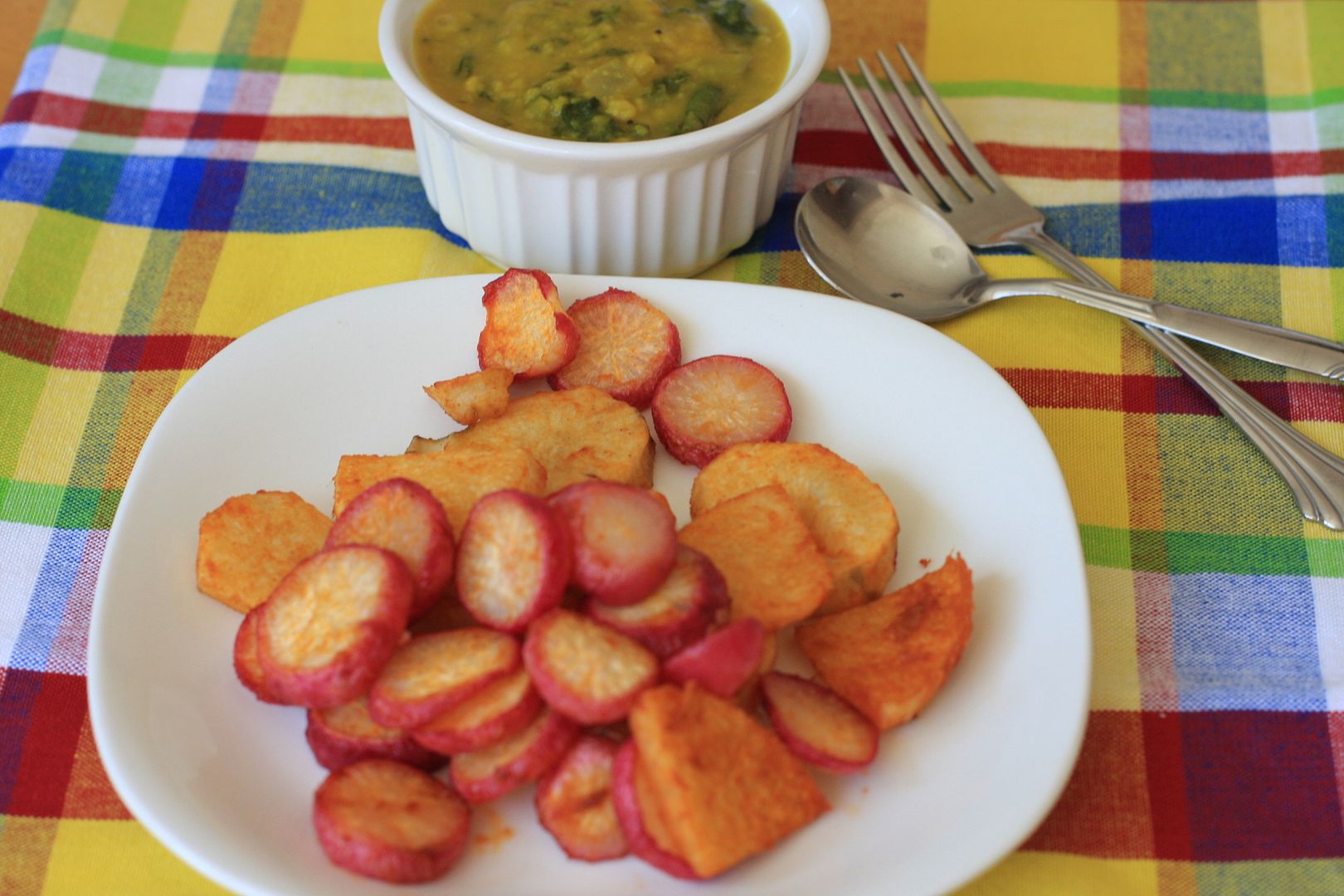 Carb Free Lunch - A bowl of lentil & greens dal (or soup) and roasted vegetables
Roasted Vegetables - Jerusalem Artichoke, Radish and Jicama
Preparation Time:10 minutes
Roasting Time:20 -25 minutes
Ingredients


1 cup or radishes (I used the small red one) sliced thick
2 Jerusalem Artichokes peeled and sliced to the same thickness as the radishes
1 Jicma peeled and sliced
2 tsp olive oil
salt to taste (about 1/2 tsp)
2 tsp of red chili powder


Method

Preheat the oven to 400F.



Toss the sliced vegetables with the oil, salt and chili powder



Spread on a greased baking tray in a single layer.



Bake for 20 minutes and if need for another 5 minutes or so.

.

Like what you are reading? Subscribe!