I like the name Huevos Rancheros the kids like its taste. I got hooked onto corn tortillas while on vacation and finally gave it a try and our taste buds have responded to it enthusiastically as well. The kids have declared that they prefer the corn tortillas much better than the chapathis I usually make with wheat flour. While the rotis made with a combination of
wheat flour and millet flours
are much softer than just the wheat ones but the corn tortillas are in a category all their own. The advantage of Gluten Free diet is that it is light on the stomach. The corn tortillas are soft and airy, the main reason for it being a kids favorite.
DD2 especially has taken a special liking to these
corn tortillas
so when I make them for dinner I save some of the dough to make some corn tortillas with eggs for the kids lunch the next day. It comes together very quickly. While just the eggs and cheese will be tasty by themselves adding a bit of Avocado can only elevate the taste.
DD likes the egg to be fully cooked and does not like oozy eggs but if you are serving for breakfast, the egg can be watery and I bet it will be a lot tastier.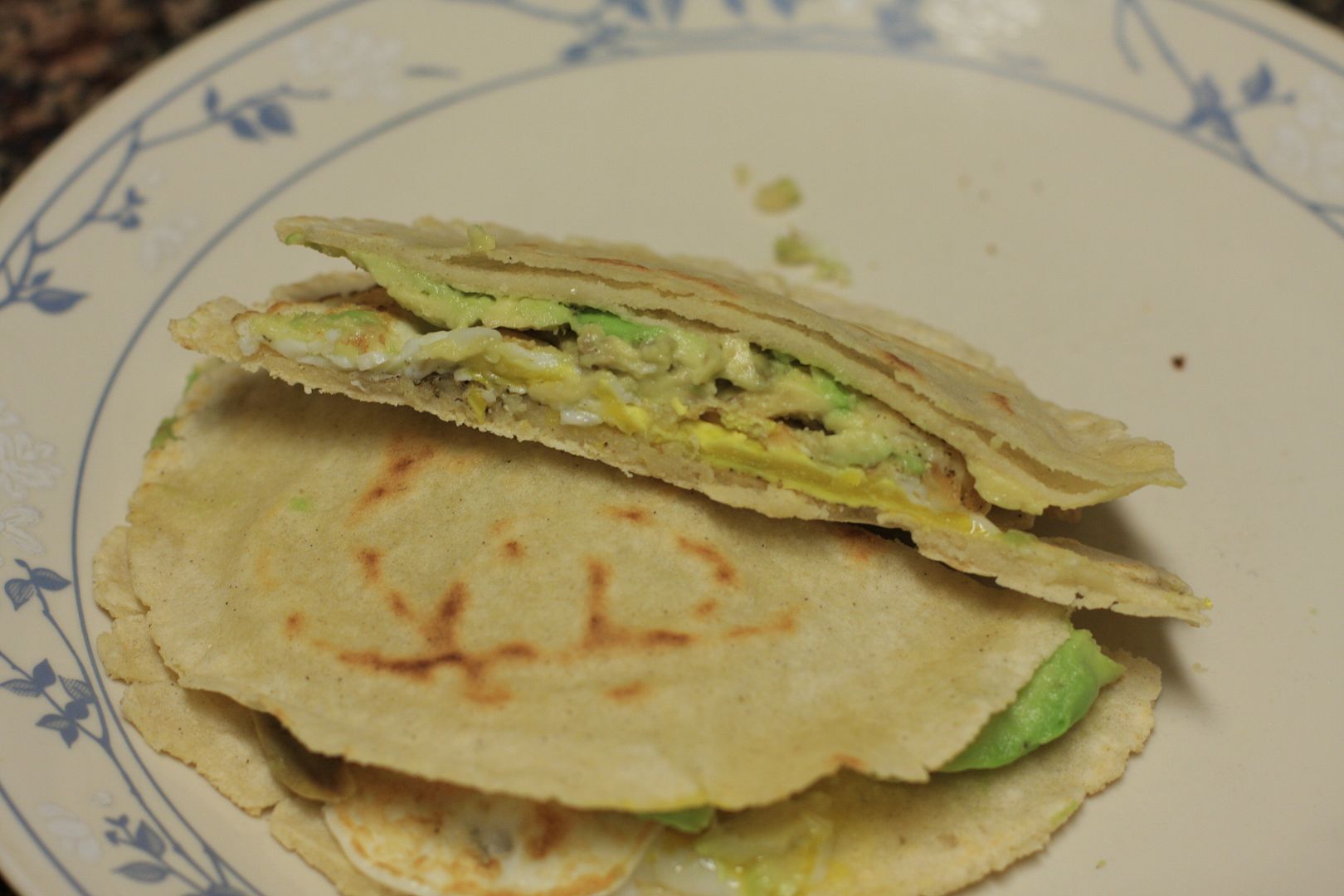 Huevos Rancheros are a perfect lunch box favorite that is done in under 15 minutes. If you are making this for breakfast or as a lunch box item prepare the dough the previous night and cover with a moist towel and keep in a refrigerator. Corn Tortillas are easy to make and the recipe is here,
How to make Corn Tortillas
?
Roll out the corn tortillas, get them cooking and put a saute pan and cook the egg.
Place the cooked tortillas on the uncooked side of the egg.
Get the second corn tortilla ready, flip the first tortilla to expose the egg .
Add the sliced Avocado on to the egg if using and place the cheese side second tortilla onto the egg.
Corn Tortillas with Eggs and Avocado
Preparation Time:5 minutes
Cooking Time:10 minutes
Ingredients


Corn tortilla dough
2 eggs
1/4 cup shredded cheese (used pepper cheese)
1 Avocado
salt and pepper to taste
a spicy spread like Harissa if desired


Method


Each egg corn tortilla require 2 tortillas. Roll them out and keep ready.
Heat a griddle, cook the rolled out corn tortilla on both sides till you start seeing brown spots. Remove and start on the second one, once cooked apply spread if using and sprinkle grated cheese on one side and let it melt.
While you are cooking the corn tortilla, put a saute pan and cook the egg, season with salt and pepper. When you are ready to flip the egg place tortilla on the uncooked side. Flip so the egg side is on the outside.
Add sliced avocados over the egg if desired, place the second cooked tortilla with the cheese side down on top of the exposed egg. Press lightly to stick the two together.
Slice and pack in lunch boxes.
Like what you are reading? Subscribe!