If you are in the
cattle
economy class while flying, it is better not to expect anything other than water and maybe some juice. Anyway that is fine with me. Eating airline food and feeling sick is far worse. This way we eat or pack food to eat on the plane like we did while traveling in a train. Whatever we do by the end of the third or fourth hour of sitting in the plane hunger and boredom start to hit and that is when the in-flight magazine comes in handy and that is where I found this easy recipe for making frittata by the Executive Chef for United, Gerry Guilli.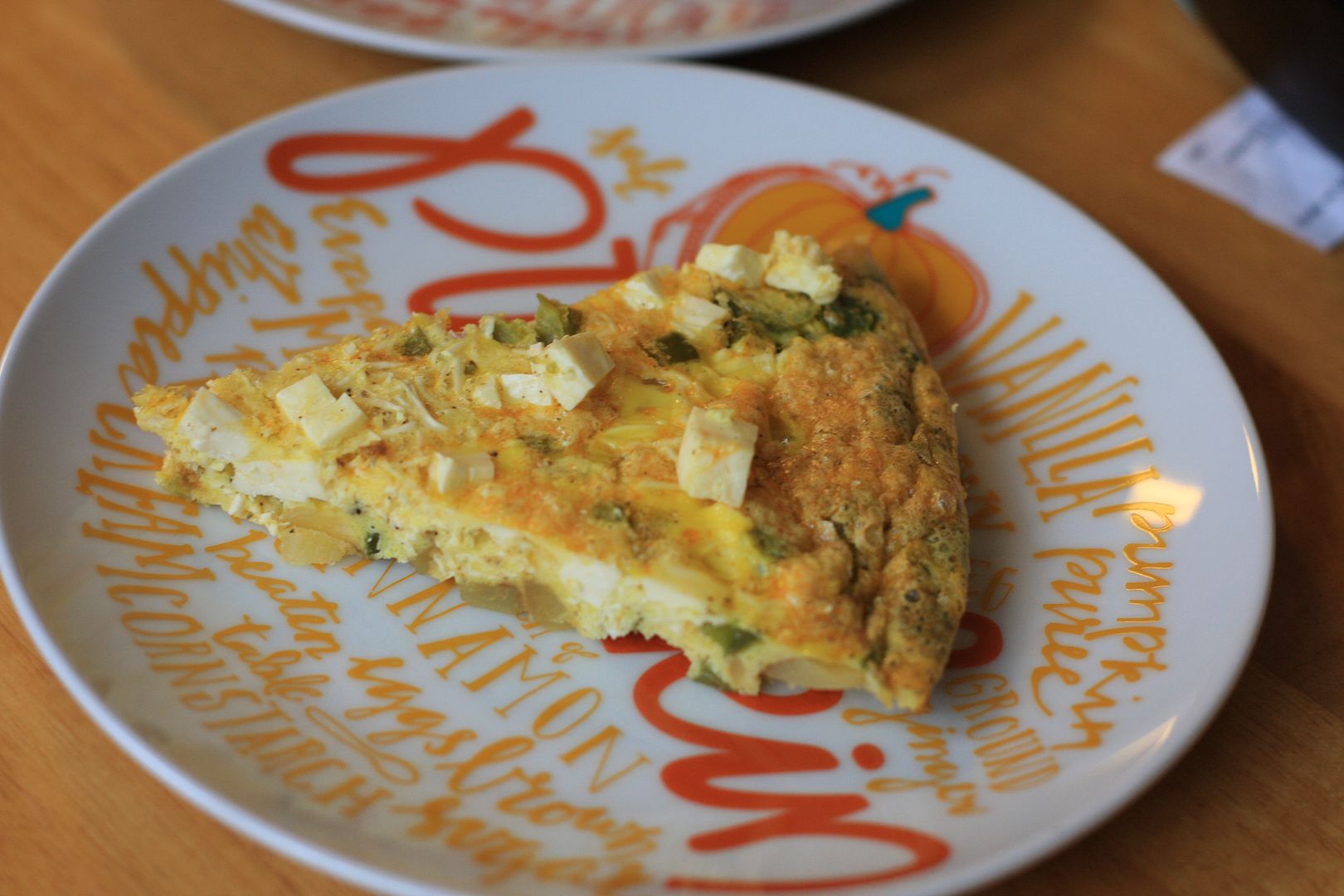 The thing about frittata is you can add any vegetables to the mix. The recipe had potatoes and prosciutto. I do not have prosciutto at home usually nor any other cold or smoked meat so I skipped that. I had green bell pepper, a red one would have made the dish prettier. The recipe called for Gruyere cheese but I did not have that either. Instead I had paneer which needed to be used and it worked well with the eggs.
Though this frittata is called a holiday frittata it is quick and easy enough to make for a quick breakfast or brunch.
Dice the potatoes and bell pepper.
Heat the olive oil in the pan and add the potatoes and when half cooked, add the bell pepper and let it cook till the potatoes and bell pepper are soft.
Drain the cooked potatoes and bell pepper onto paper towels. Transfer the potato mixture onto the cast iron pan so it is in a single layer and spread the shredded cheese on top.
Whisk the eggs till it is nice and frothy and add the diced paneer and jalapenos.
Pour the egg mixture onto the potato and bell pepper and bake in a 350F heated oven for 8-12 minutes till set.
Let cool for about 5 minutes or so, cut into wedges and serve.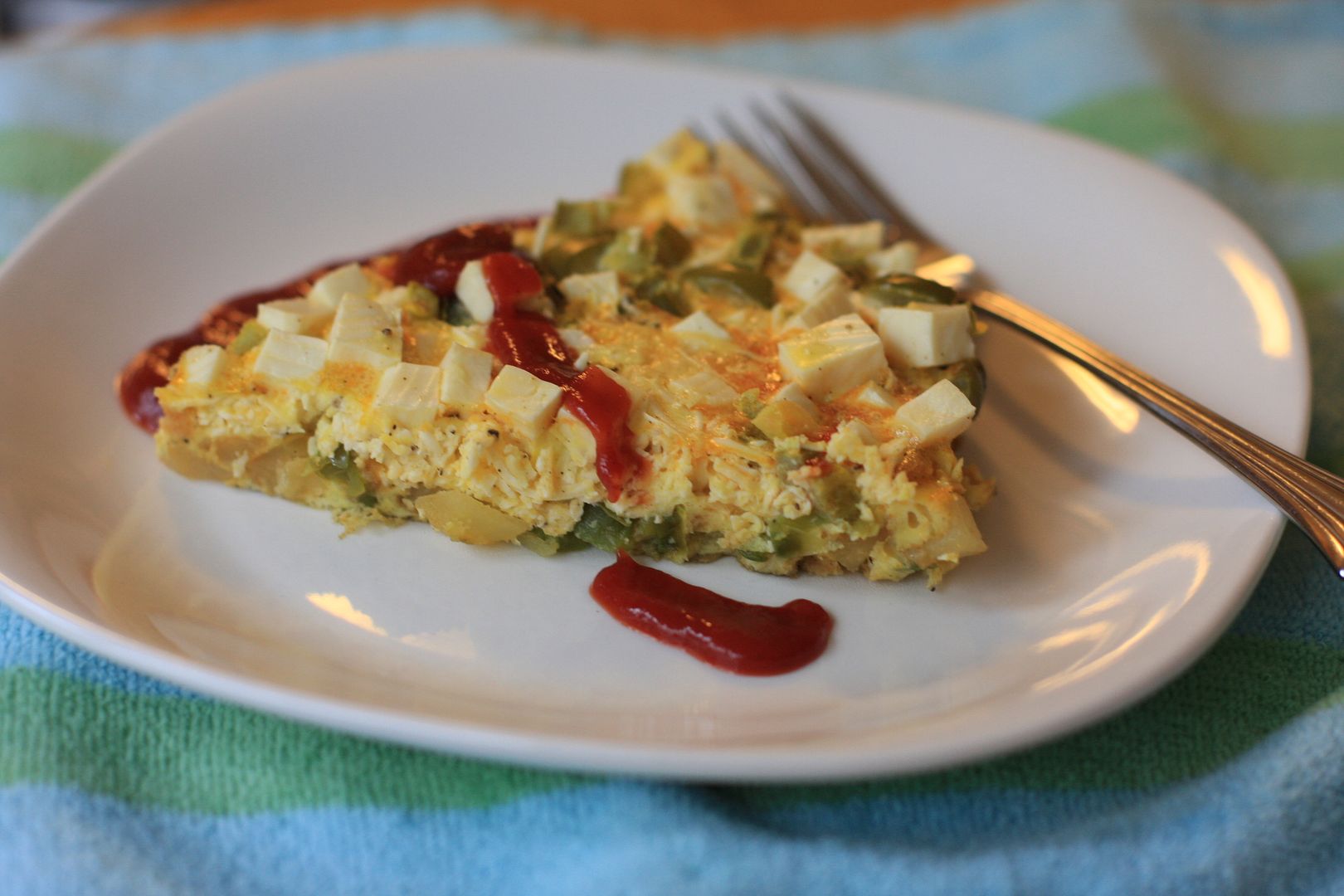 Holiday Breakfast Frittata
Preparation Time:20 minutes
Baking Time:15 minutes
Ingredients


6 Eggs
1 Potato peeled and diced - 1/2 inch dices
1 Green (or Red) bell pepper - 1/2 inch dices
1 tsp red chili powder + 1 tsp black pepper powder
2 tbsp finely chopped pickled jalapenos
1/2 cup shredded paneer (or any cheese)
1/2 cup finely diced paneer (or any cheese)
1-2 tbsp olive oil
1 tsp of water
salt to taste


Method


Heat a saute pan (see note:) and add the olive oil and when hot add the diced potatoes and let it cook for about 4-5 minutes. The potatoes would be half cooked at this point, add in the diced bell pepper and saute for another 2-3 minutes.
Add the red chili powder and salt and cook for a couple more minutes till it is fully cooked. Drain on paper towels.
Preheat oven to 350F.
Spread the potato, bell pepper mixture on to an oven proof pan, I used a cast iron pan in a single layer, and spread the shredded cheese on the potato and bell pepper.
Break the eggs into a dish, sprinkle the black pepper and salt and whisk till it becomes nice and frothy. Add in the diced jalapenos and diced paneer.
Pour the egg mixture on top of the potato mixture and bake for 8-12 minutes or till the eggs are set.
Serve with a spicy sauce or tomato ketchup. Note:
Cast iron pan works best because it can go in the oven. If you do not have a oven proof saute pan, use a flat baking dish.
I reduced the eggs by half a dozen. For the size of the pan I used 1 dozen would have nice and thick frittatas.

Like what you are reading? Subscribe!