Thanksgiving is here almost. The holiday that all of America waits for. This year along with the anticipation of the holiday there is anxiety about the snow storm that is paying us a visit. From 8-9 inches to an inch of snow on just the grassy areas, the forecast is all over the place. While this is nothing compared to the 7 feet of snow that Buffalo got, I am a snow wimp and snow being snow bothers me. Whatever the weather in your neck of the woods have yourself a safe and happy Thanksgiving!
Thanksgiving means turkey! But if you are like me and turkey is not your thing but you'd still like to cook some poultry I'd suggest giving Cornish Hen a try. Cornish Hens are young chickens that are grown for the meat specifically. Lighter and more tastier than the regular chicken, these cook really quickly.
Most recipes have seen for Cornish Hens call for roasting the bird whole which might work just as well for the Thanksgiving meal. Cornish hen can be used in all of the Indian recipes too. Cornish Hens are fairly new to me and I rarely if ever buy them. Got the urge to try them out after I tasted some fantastic pan roasted Cornish Hen at my friend's. Cut up and pan roasted with just chili powder and salt they were delicious. So following my friends recipe I gave Cornish Hens a try. They were delicious and they vanished without a trace as quickly as they were made.
As we are talking of food and giving Thanks for all that we have we could perhaps spare a few moments to think about those less fortunate among us and also the farm workers who live without the most basic rights that all of us take for granted. These
are the people
without whom we won't be enjoying the bounty on our tables. Even in the affluent county that we live in there is apparently food insecurity among record numbers of people. Food pantries that work in your local area could
targets
of your generosity.
With skin and skin removed.
Chop the chicken and add chili powder and salt and let it sit for sometime. Heat oil in a cast iron pan and the chicken pieces.
Cover and let it cook for 8-10 minutes. Open the lid saute till most of the moisture is gone, add the onions, garlic and green chilies if doing so.
Continue to saute till all the moisture is evaporated and the chicken is nicely roasted.
Cornish Hen is very tender so most of the bones and are also edible. If you want it roasted more add a bit more oil and continue till you reach the desired stage.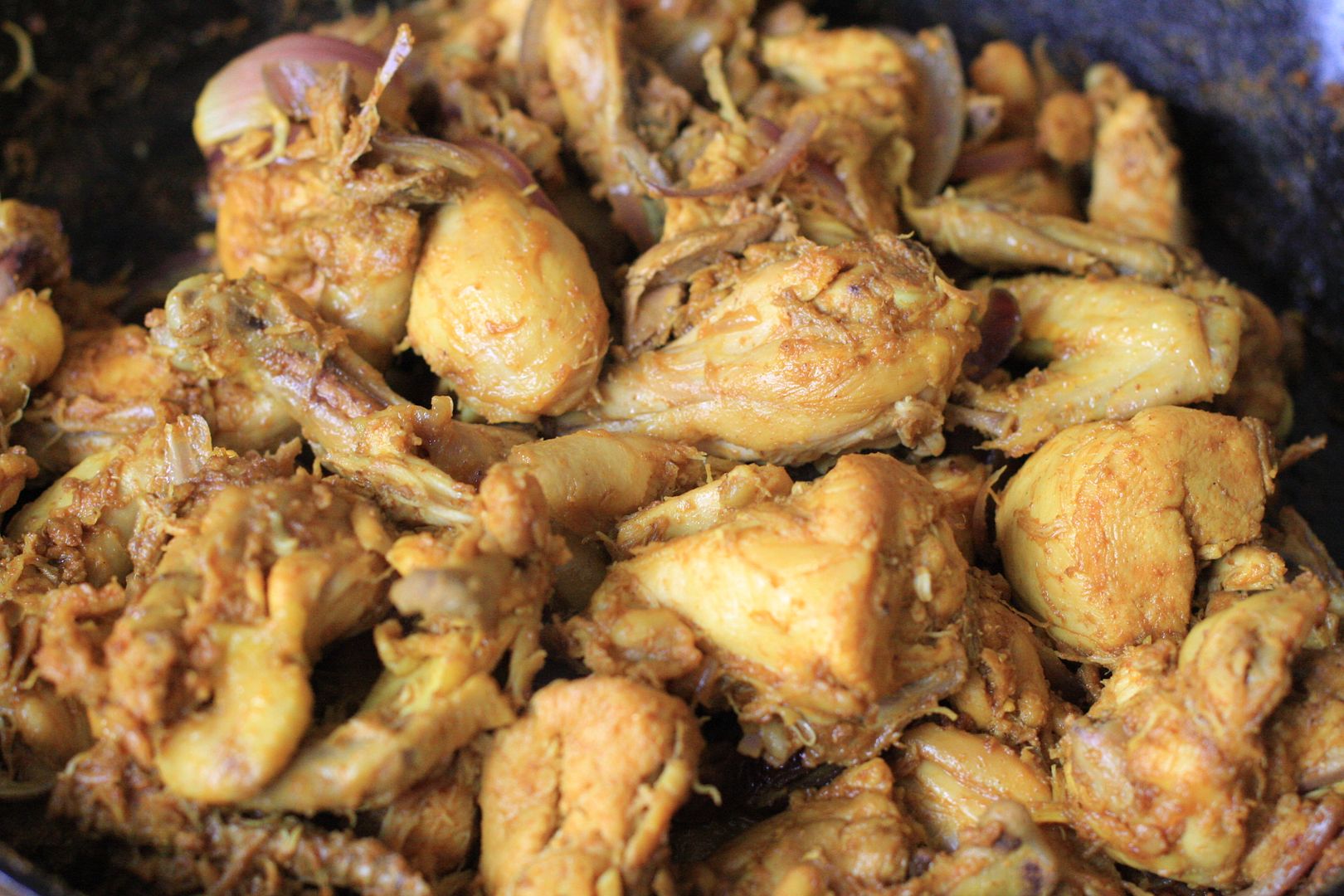 Spicy Pan Roasted Cornish Hen
Preparation Time:15 minutes (or 30 minutes if marinating)
Cooking Time:25 minutes
Ingredients


2 Cornish Hens cut into pieces of desired size (see Note:)
1/2 cup sliced onions (optional see Note:)
4-5 slit green chilies (optional)
4-5 garlic cloves sliced (optional)
1/2 tbsp chili powder
1/2 tbsp of chicken masala powder (optional)
2 tsp turmeric powder
salt to taste
1 tbsp oil


Method


Cut the Cornish Hen just like you would a normal chicken, separate out the wings, thighs and then slit the breast in half and cut that into half. Wash well with turmeric powder and water, drain as much water as possible. Add a portion of the chili powder and salt and let it sit for 20-30 minutes. Letting it sit is purely optional and does not have to be done.
In a cast iron pan or in a thick bottomed wide mouthed pan, heat oil and when it is hot add the chopped chicken pieces.
In high heat let the outside of the chicken sear about 3-4 minutes, as the cooking process begins close with a lid and let it cook for about 8-10 minutes.
Open the lid, there will be a lot of moisture in the pan at this stage, add the chicken masala powder and the rest of the chili powder and salt if required and continue to saute in medium heat till the moisture has evaporated (about 6-8 minutes). Now add the onions, garlic and green chilies if adding and continue to saute till the moisture is completely gone and the chicken looks well roasted.
Note:I removed the skin before cutting up the Cornish Hen. You can leave it on, it gets roasted as well. I left the skin on the wings and could not notice it.
The onions, green chilies and garlic give a little bit of masala and it tastes great with the roasting. Can be left out if not desired.
We like the chicken to be tender and moist, if you prefer a more drier version, add a bit more oil and continue to saute till it starts to brown on the edges.
Like what you are reading? Subscribe!