I was listening to I think it was the CBS morning show. The segment was talking about everyday health. As I switched to the show I heard them talking about home cooked meals and how a family that eats at least 7-8 home cooked meals a weeks is supposedly healthier than one that doesn't. Eating at home and cooking like everything else is a habit. It is also about getting an interest in cooking so it does not seem like a chore.
So while there are dishes that I cook on a weekday nights there are certain others that are set aside for weekends. The recipe for today is one such. This is a recipe from my SriLankan friend. While she and I cook a lot of the same dishes, the way we cook them is very different. This recipe for dried fish is made as per her suggestion.
Heat oil in a cast iron pan and add the onions, chilies and garlic and saute till they get translucent.
Add in the chopped tomatoes and saute till the tomatoes become mushy. Add the turmeric and chili powder and mix well.
Once the tomatoes and onions are fully cooked and start to leave the sides add the dried fish and cook for another 6-8 minutes till it is well coated.
The dried fish I used was Larich branch Dried Seer Fish which already had chilies, of course salt and also lime. If you have just the dried fish you might want to add some vinegar or lime juice.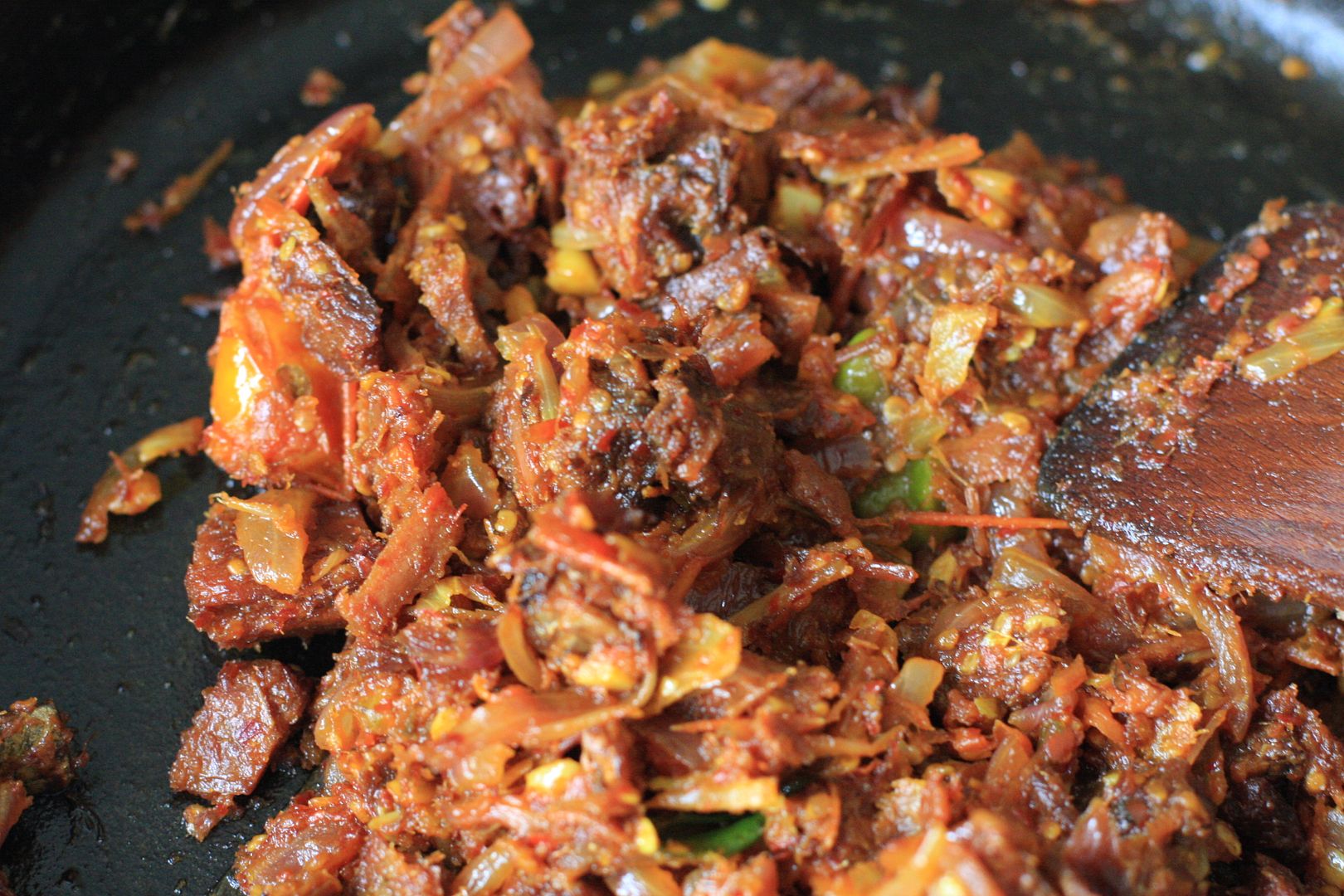 Dried Seer fish dry curry - Karvadu Pirattal
Preparation Time:5 minutes
Cooking Time:30 minutes
Ingredients


about a cup of dried fish(I used Larich Seer Dried Fish) (see Note:)
1/2 onion - 1/2 cup thinly sliced
4 garlic cloves chopped
6 green chilies slit
1/4 cup of tomatoes chopped
1 tsp turmeric powder
2 tsp chili powder
1 tbsp lime juice or vinegar
1/2 - 1 tbsp of oil

Method

Heat oil in a pan - if using plain dried fish first fry the dried fish and set aside.
Add the onions, garlic and green chilies and saute till the onion is translucent and is starting to turn brown.
Add the tomatoes and saute till it soft and mushy.
Add the turmeric and chili powder, mix well and saute till the oil start to separate from the sides (about 15 minutes).
Add in the dried fish (If using just plain dried fish add in the lime juice / vinegar) and continue to saute till it is well coated - about 6-8 minutes.
Note:I used pre fried dried fish, if using plain dried fish it has to be fried a bit first before using in the recipe.

Serve with steamed white rice.
Like what you are reading? Subscribe!