Have you had this happen to you? When one bad thing happens a lot of bad things follow. That is exactly what happened to me yesterday. I came home last evening looking forward to a quiet evening. Luckily I did not open the mail till later in the evening else there would have been no dinner. I opened the letter from the bank with the usual enthusiasm one reserves for opening a mail from the bank! Well anyway the adrenaline rush started the minute I saw it was an overdraft letter and of course a fee was tacked on. The overdraft was for a credit card payment. It did not have to get messier than that! The amount was more than the overdraft protection we had at the bank. I know I know we are spending way too much on credit!
The running and calling around started, I transferred enough money and paid the Credit bill first. Called the credit card company to ask for a waiver of the fee and the interest charges. They quickly obliged as we were long time card holders and we were usually on time blah blah. But just to let you know most credit card companies do waive those pesky fees when you have a history of paying the bill on time. Next I called the bank to ask them to waive the fee for the overdraft. After giving me a lecture that this was a one time thing and again because we were banking with them for a long time they too obliged.
While all this happening I noticed another blunder that was not going to be that easy to fix. Instead of sending payment for my property tax I had sent a payment to my home owner's association. I usually do this through my bank's e-payment. The property tax is split into 2 payments, one due in September and one in December. So the September payment went to the HOA. What a mess! I fixed the original mistake first by sending payment to the correct payee. I called the HOA next. They told me that they did not cash the check and had tried calling but the phone rang and rang. If only I had got that message. They are going to send me the check back. In the meantime I had to call the bank to credit my account from which the money had already been debited and put a stop payment on the e-payment. They gave me a spiel about how it will take 2-3 business days and 45 days before the issue is fully resolved. No kidding! This is how e-bill payment works. The bank contracts a third-party, they debit your bank account and then issue a paper check to the payee. So to refund a deducted amount the reverse has to happen.
No deed goes unpunished though. The county has already assessed interest and penalty for the unpaid amount. What a mess! The moral of the story, it is better to go back to the old simple check writing to save your sanity!! I have never in all these years written a check to the wrong payee.
Anyway now on to more pleasant and delicious things but we will keep it simple for today alright?
Cauliflower is a life saver. I always have them in the fridge, they are a fall or spring crop as they do not like too much heat. Planted usually late or mid summer for a fall harvest. Around now is when you get the best cauliflowers. Cauliflower and Potatoes make the best combination and this
Sukhi Style Cauliflower potato curry
is my favorite. Sometimes peas is also added into the mix. The recipe I have today is a very simple one but perfect for a quick meal.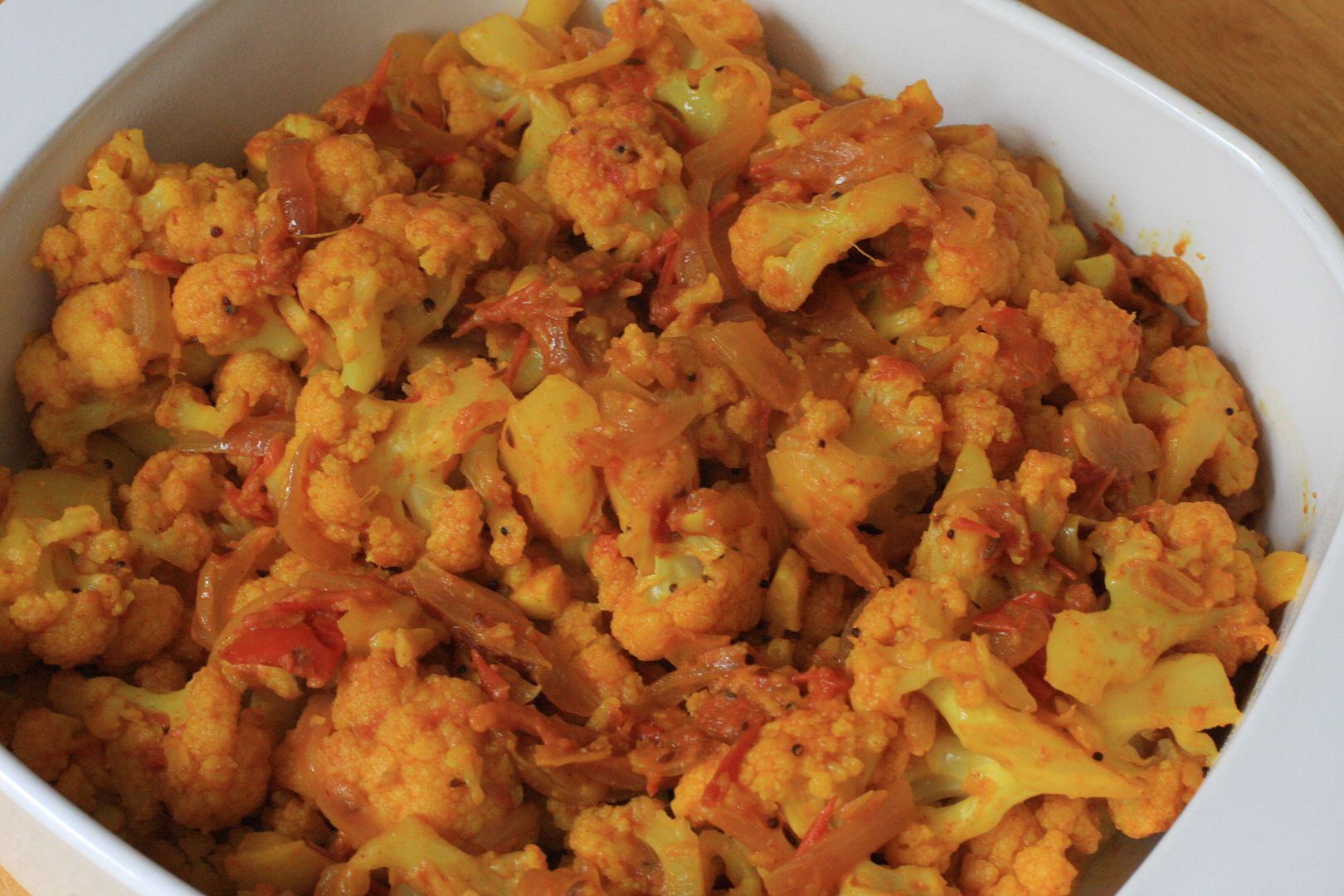 Cauliflower Dry Masala with onions and tomatoes
Preparation Time:10 minutes
Cooking Time:15 minutes
Ingredients


1 cauliflower separated into florets (as big or small as you want)
1/4 cup of sliced onions
1/4 - 1/2 cup of tomatoes chopped (I used small grape tomatoes)
3-4 garlic cloves crushed
2 tsp of grated ginger (optional)
2 tsp turmeric powder
2 tsp of red chili powder
a pinch of cumin powder
salt to taste
2 tsp of oil
seasonings: mustard seeds and cumin seeds


Method


Heat a pot of water and when hot add the cauliflower florets and cook for about 5-6 minutes. Drain. Do not overcook.
While the cauliflower is cooking, heat oil in a wide mouthed pan and add the seasonings and when the mustard starts to pop add the onions.
Saute the onions till it gets nice and translucent. Now add the garlic and ginger and saute for a couple of minutes more.
Add the turmeric, chili powder, cumin and salt and give a good mix.
Add in the chopped tomatoes and let it cook till it becomes mushy.
Add the cooked and drain cauliflower and mix it into the masala nicely. Saute gently for another 5-10 minutes.

Serve with rotis or a side to rice.

Like what you are reading? Subscribe!