I have lived far too long in this country to not get caught up in the Superbowl fever. It took me years to understand the American game of football. All the hitting falling and getting hurt did not endear me to the game and most of all for a game called football lot more hand was used than foot. I am still apprehensive watching the game. This week it has been hard not to hear information about the game even if I didn't actively seek information. The week leading to the Superbowl the newspapers, radio and television are full of non stop news about the game, players and these days the risks for players.
The other big attraction about watching the game are the advertisements known to be some of the best that are telecast during the game. I started watching the game to catch up on the advertisements so I know what people are talking about the next day.
During the games since everyone is busy watching the game and enjoying super bowl foods I too sit in front of the TV to enjoy the communal feeling and occasionally catch a few glimpses of the game while doing something else. I ask a few
stupid
questions about a play and nobody is interested in answering because they are engrossed in watching or simply annoyed at me. Result, my ignorance of the game still continues. I know a touchdown from a free kick, advancing in yards and perhaps that much knowledge is enough to watch the game.
These days I have mixed feelings about watching a game in which players get hurt so much that it is almost impossible to lead normal lives after that. After watching the
PBS Frontline documentary League of Denial
I even feel a bit guilty watching the game. It does not seem fair that the NFL has taken so long to accept the truth and so many players have been hurt because of that.
If more of us pay attention to this reality just maybe the game will be made more safer for the players.
Now on to the recipe,
Cooking chicken during weeknights is not something I normally do but cooking with chicken is far more easier than trying to come up with a vegetarian meal. No that I make a 3 course meal on weeknight if I am cooking vegetarian but that is my perception. Paired with rice or a bread and some yogurt a satisfying meal is only half an hour away. I usually save some chicken drumsticks if I were planning on making a weeknight chicken meal. They are easy to clean and cook and they do well in a pressure cooker.
I had frozen methi - which I realized is far more easier than cleaning fresh methi leaves especially during the winter months. I had methi, I had chicken and when I looked at this
recipe
I did not need any more prompting. I hardly ever pair greens with fish or meat/chicken for the simply reason that I am not familiar with it. I have had spinach chicken at a friend's long time ago but for the chicken in spinach dish to taste good the spinach has to be sauteed for a longer time for the slimy feel of the spinach to disappear. Methi/Fenugreek leaves do not have that problem, once cooked they are soft and good to go. I followed the recipe from Quick Indian Cooking without many modifications, the only difference being I reduced the tomatoes and increased the methi leaves.
While the taste is delicious the aroma of the methi leaves with chicken was even better. You got to try it.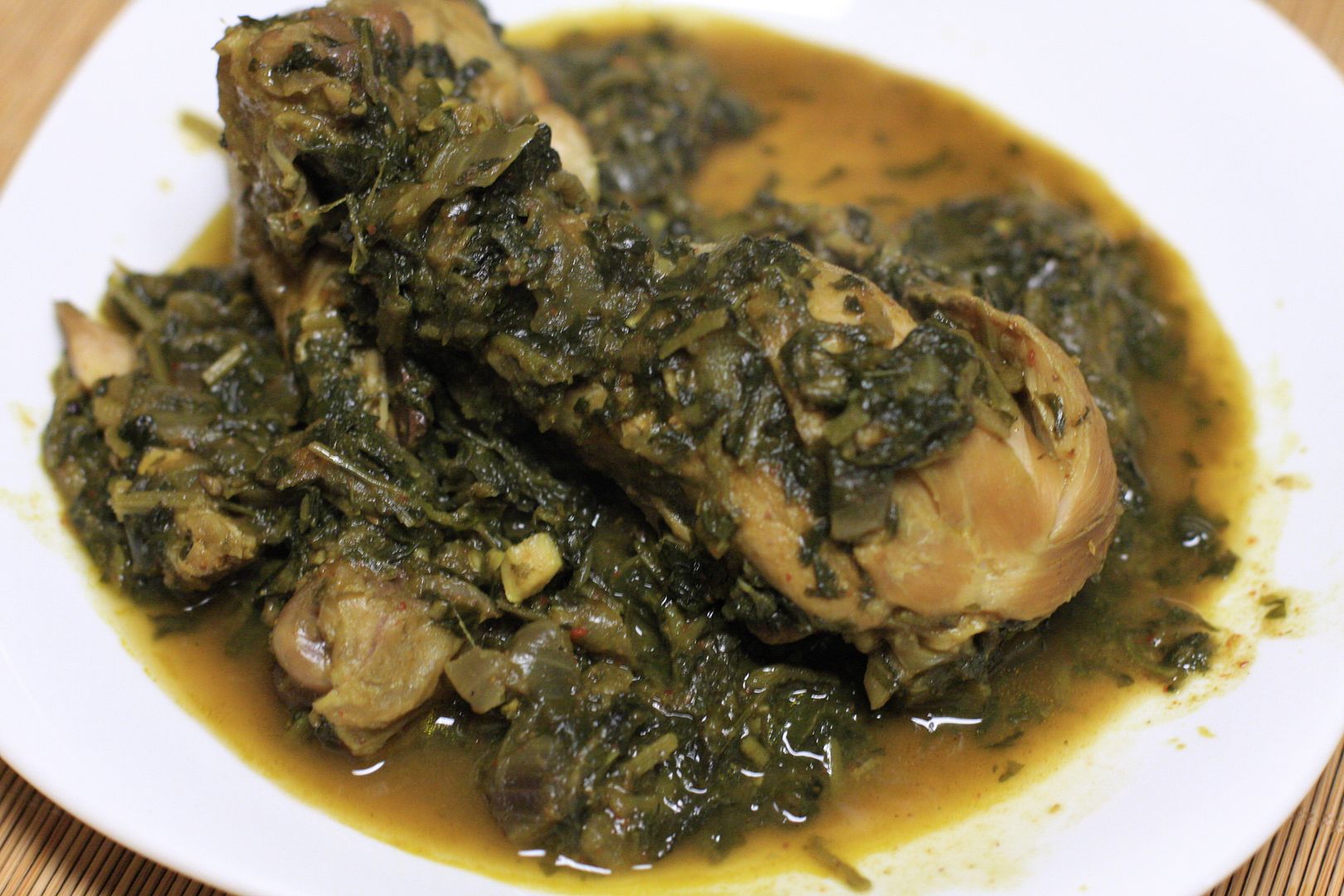 Methi/Fenugreek leaves Chicken
Preparation Time:10 minutes
Cooking Time:25 minutes
Ingredients


8 Chicken Drumsticks or any other pieces you prefer
1 onion chopped fine
6 cloves of garlic chopped fine
2 inch piece of ginger grated
2 cups of packed methi leaves or 4 cubes of frozen methi leaves
2 tomatoes chopped fine or 1 tomato + 1 tbsp tomato paste
1/2 tbsp of curry masala powder (I used Bolst's curry powder )
1/2 tbsp red chili powder
2 tsp turmeric powder
Seasonings: fennel seeds a few, cumin seeds
salt to taste
2 tsp of oil

Method


Clean the drumsticks, make a couple of slits on them, and add a bit of the chili powder and sprinkle salt and set it aside.
In a Pressure cooker heat the oil and add the seasonings, followed by the onions and saute till they turn slightly brown.
Add in the ginger and garlic and let them saute for a couple of minutes.
Add in the turmeric powder, chili powder, masala powder and give a good mix.
Add in the chicken, saute for about 4-5 minutes till the chicken changes color. Fish it out and set aside on a plate.
Now add in the tomatoes and let it get mushy.
Add in the fenugreek leaves and saute for about 3-4 minutes. See Note: for a slightly smoother gravy.
Now add the chicken back in and saute for 2 minutes. Add a cup of water.
Add more salt if required. Cover the cooker and let cook for 2 whistles.
Cool open lid and let simmer for another 5 minutes till the sauce thickens a bit. The gravy was lightly watery but you could heat it a bit longer for a thicker gravy.
Note:If you like the gravy to be smooth use a hand blender and blend the leaves a little bit. I like it chunky and so let it be.

Serve with rice. It goes well with any kind of Indian bread.

Like what you are reading? Subscribe!