Being a working mom is hard enough. Getting the kids to school and then rush to work and then get back home and putting dinner on the table is not an easy task. I grumble and complain but get it done anyway because if dinner is not cooked there is no lunch the next day and eating out two meals in a row does not sit well with our stomachs. Add to that the time taken to get out for lunch means late arrival at home in the evening. Yes it is complicated.
My neighbor at work asked me if I cook everyday. I try I told her. She told me that she hardly gets time to cook because it takes her about couple of hours to finish cooking. She is not Indian by the way. Yes some dishes require elaborate cooking but there are also dishes and quick recipes that don't take too much time. The more familiar you get with cooking the quicker the process becomes. So we spent moments discussing how to cut back on time and how to get the cooking done in less than an hour.
I try not to spend more than 45 minutes even if I were cooking something that seems fancy like a chicken briyani. For a long time cooking a pulav or biryani were strictly weekend affairs. As I realized these are fantastic one pot meals that are perfect lunch box items for the next day I have taken to cooking them during weekends. Of course the chicken can substituted with chickpeas, potatoes, cauliflowers, red kidney beans or a combination of vegetables.
Even though I tried this chicken on a weekend I am pretty sure this will be a meal during the weekday. If trying on a weekday try using drumsticks, they are easy to clean and not much mess either.
Saute the wholes spices in oil and add the green chilies and onion. Keep the grated ginger and garlic ready.
Add in the whole garlic cloves, coriander and mint leaves and saute till they get soft. Add in the chicken and saute till it starts to turn white.
Add in the rice, saute for about 3-4 minutes, add the coconut paste.
I have always had had doubts about what constitutes a pulav and how it is different from a biryani. I read explanations but none made it easy to point out the difference. Chef. Damodaran to the rescue. I watched this
episode of Samayal Darbar on youtube to learn how to make chicken pulav.
Bonus, he also explains the difference between pulav and biryani. A pulav is a rice dish where the taste and flavor comes from onions, green chilies, ginger/garlic, mint and coriander. There are no other powdered masalas, no tomatoes, no coriander/cumin powder. Coconut milk is added along with water to cook the rice and whole spices are added for seasoning.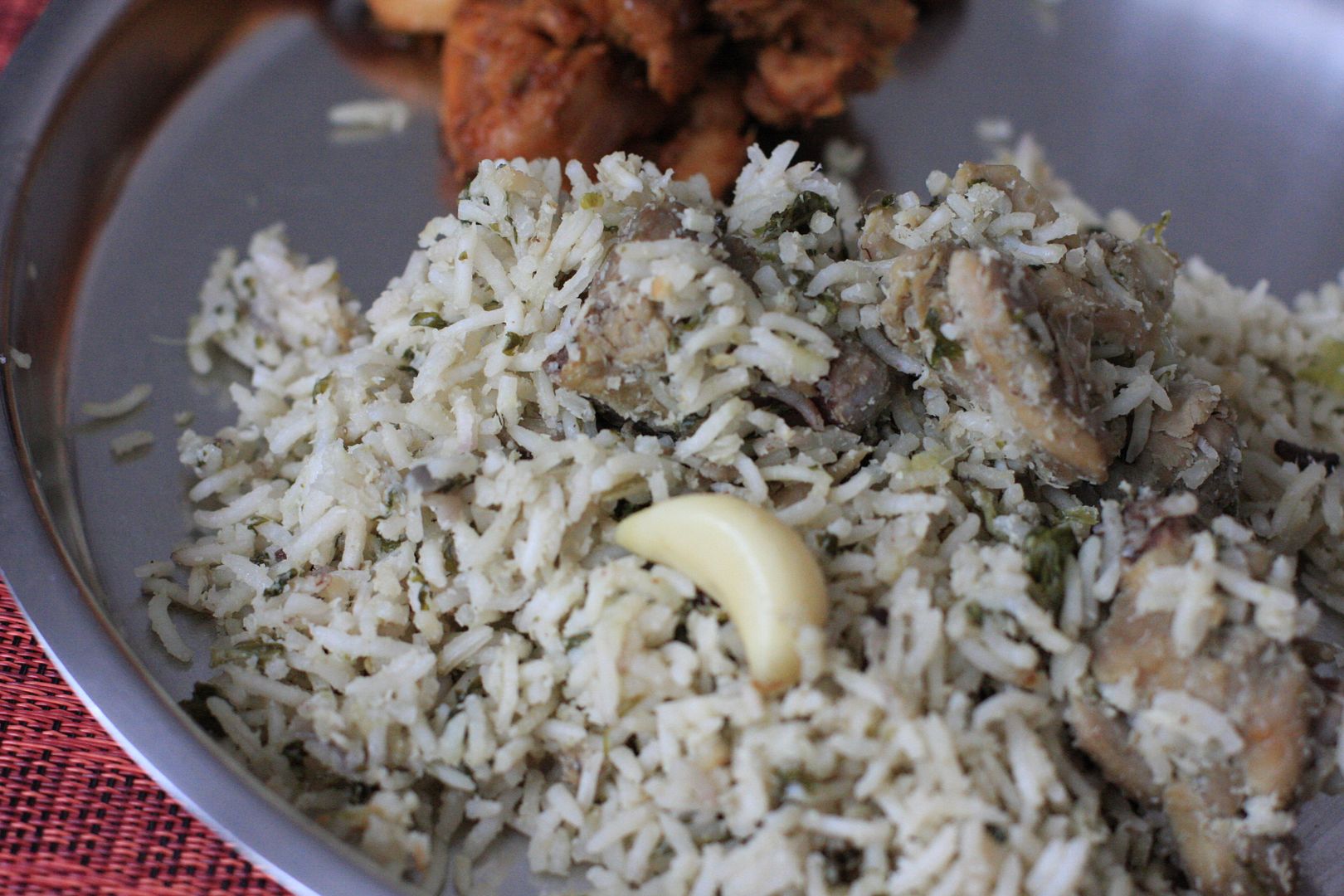 I cook biryani all the time but never have not made chicken pulav before. Generally coconut milk is used to cook the rice but I decide to use coconut paste because all I had was frozen coconut and I am not too fond of canned coconut milk. The rice has specks of coconut which might not be there if using coconut milk.
Chicken Pulav
Preparation Time:10 minutes + (20 minutes for soaking rice)
Cooking Time:30 minutes
Ingredients


2 cups of rice soaked for 1/2 hour
3/4 lb chicken thighs with bones (drumsticks can be used) (see Note:)
12 Thai Green Chilies slit but not completely cut into two
1/2 medium sized onion sliced
2 inches of ginger grated
6 garlic cloves grated (see Note:)
1/2 cup of packed coriander leaves chopped
1 cup of packed mint leaves chopped
1 cup of frozen coconut made into a paste with 1 cup of water
1/2 cup of plain yogurt
Whole spices - cinnamon, cloves, Marathi Moggu, Star Anise, Bay leaf
6-8 whole cloves of garlic
Salt to taste
1/2 tbsp oil

Method


If you are used to washing chicken pieces with turmeric, make sure you wash off all the turmeric so that the pulav does not turn color.
Heat a pressure cooker with oil and add the seasonings, after about 1/2 minute add in the onions and let it saute till it becomes translucent. Do not let it gain color. Now add in the slit green chilies and let it saute for a couple of minutes.
While the onions are sauteing make the coconut paste and mix the yogurt into it and keep it ready.
Add in the grated ginger and grated garlic and let them saute for 2-3 minutes and take care not to stick to the bottom.
Now add in the whole garlic cloves, chopped coriander and mint leaves and let them saute and become soft for about 3-4 minutes.
Now add in the chicken pieces and salt and saute till they start to turn white. Drain the rice and add it into the chicken and saute for about 3-4 minutes.
Reduce heat to below medium, and add the coconut paste and yogurt mixture into the rice (this came up to a cup for me) and mix it into the rice.
Now add 2 cups of water raise the heat and let it come to a boil. Check for salt. Reduce heat to just below medium and cook for about 5-8 minutes till most of the water has be absorbed.
Now place the lid and the weight on the pressure cooker and let cook for about 8 minutes. Turn off the heat.
Let sit for another 10 minutes and fluff up the rice with a fork.
Note: Though boneless chicken can be used, chicken with bones adds extra taste.
Ginger/Garlic paste can be used but I find using grated cooks it faster.
If using coconut paste 2 cups of water is needed, if using coconut milk, just add enough water to make up the rice/water ratio and not the full quantity of water.
So for Basmati rice, 1 cup of rice requires 1.5 cups of water. If soaked just 1 cup would suffice. So if using coconut milk it would 1 cup coconut milk and 1 cup of water.
Serve with a spicy roasted chicken or a spicy chicken curry (we had it with some dry sauteed chicken). The rice is very flavorful but without any strong flavors.
Like what you are reading? Subscribe!