Fall is the perfect time for fresh apples. This is true only if you visit farmers markets or buy from a local orchard. Don't be shocked though that the apples in grocery store shelves are anywhere between 6-12 months old. I also read a story about an apple warehouse manager who does not eat apples because of the very fact.
The best way to enjoy fresh juicy apples is to either pick them at 'pick your own' orchards or from the farm market attached to the orchards themselves. Last week we visited a local farm market and picked up some fresh juicy apples. I forget the name of the apple variety but it sure scented our refrigerator which has never happened before. I am beating myself for not remembering the variety. Anyway about 10-15 years ago the only apples I ever noticed in most store were Gala, Red Delicious and Granny Smith. All of which did not make me any fonder of apples. They tasted mealy and skin sour and generally kept me away from apples. Fast forward to today most grocery stores carry a wide variety of apples with and the farm markets have even more of a wider array.
Now on to the apple sauce story. I started buying apple sauce to spread over toasts, pancakes and waffles for the kids to avoid the large amount of maple syrup they were consuming. It always took me a while to find the right one. Unsweetened, organic, no additives - the list of requirements were endless.
With apples in abundance it was time to try to make some at home. There is not much to it and I am not sure why I buy the bottled stuff. The convenience of making it at home you can mix any fruit you like to give it a taste twist. I had some frozen mangoes which is what went into the batch of apple sauce I made to eat with some home made waffles.
If your kids or you like apple sauce you should give this a try and it will be hard to go back to the store bought stuff. I usually buy unsweetened apple sauce only from the stores so my kids are used to eating fairly unsweet applesauce. If you need it to a bit sweet add the suggested amount of sugar or more :)
Moreover the store bought apple sauce can't hold a candle to the homemade apple sauce.
Choose the best apples and peel core and make small dices.
Mix with the fruit of choice, cook in some water, mash till smooth or leave it chunky.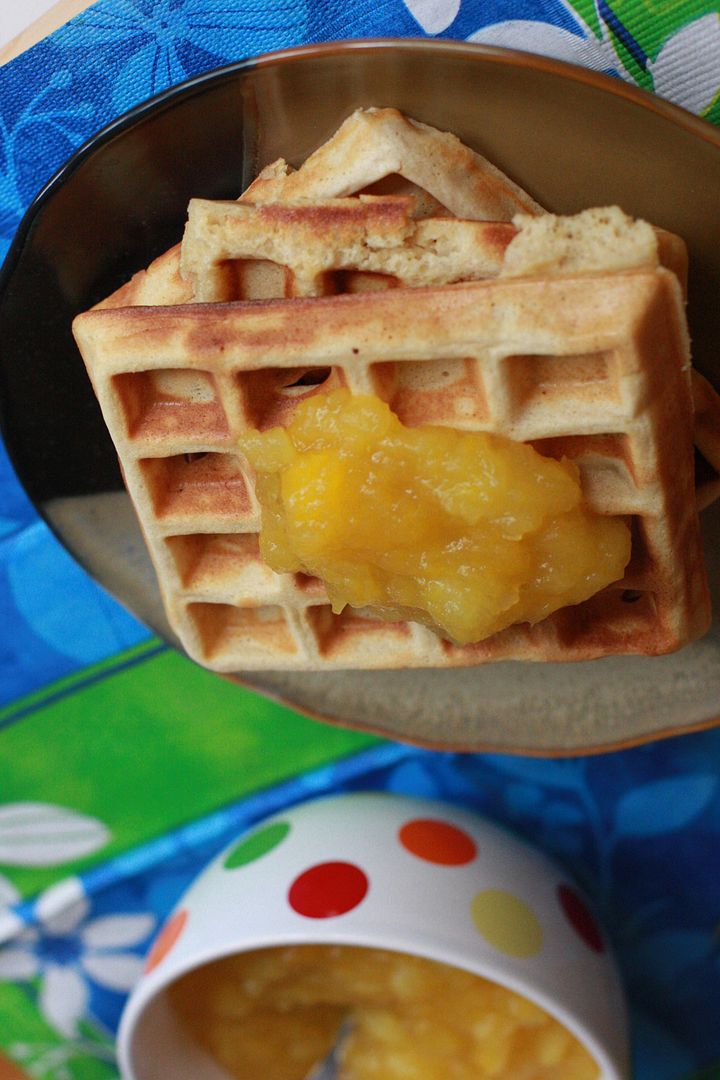 Apple sauce with homemade waffles
Apple Sauce with mangoes
Preparation Time:10 minutes
Cooking Time:25-30 minutes
Ingredients


2 apples - cored, peeled and small diced
1/4 cup of mangoes (used frozen mangoes)
1 tsp of lime juice
2 tsp of sugar or honey - optional (used about 1 tsp of sugar)
1/2 cup of water or more if needed


Method


Heat the water till bubbling, add the diced apples and mangoes. Let cook for about 10 minutes.
Add the lime juice and sugar if using and let cook for another 10-15 minutes in a slightly medium low flame.
Cook till the apples are easily mashed with the back of a spoon. For a fairly chunky apple sauce leave some of them unmashed. If required add a bit more water if the apples are not soft.
Turn off heat and mash with a back of a spoon and serve hot or cold.





Like what you are reading? Subscribe!