Butternut Squash - I have never tried to grow it or even attempt it but somehow every summer I have one in the garden and even get a few mature butternut squashes after I have mistakenly plucked one or two early thinking they are bottle gourd. This has happened to me a few times and you'd think I'd actually learn after the first time. Remember
this one which became
a curry before its time?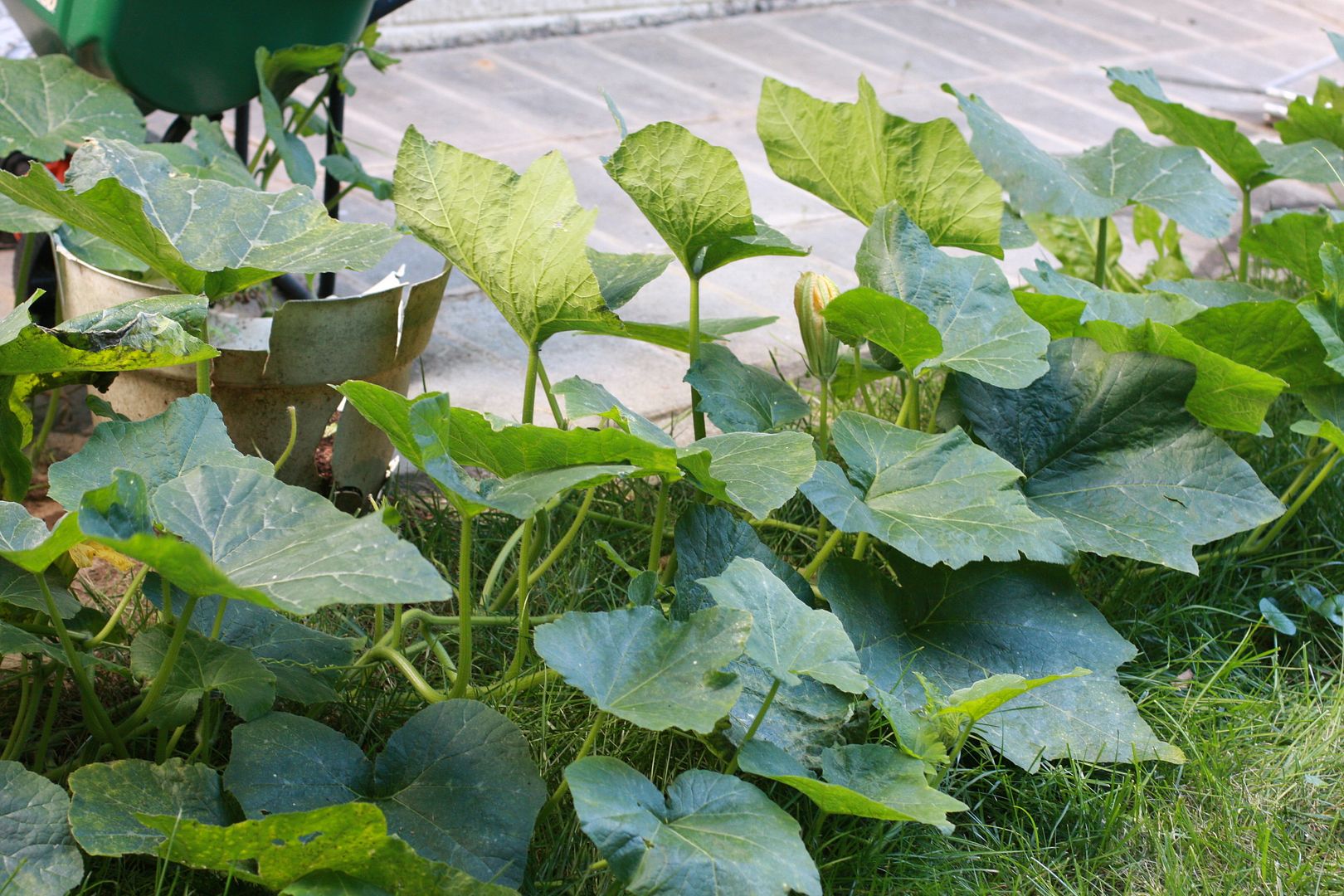 The problem is this. Since I did not plant them they were always ended up being mysterious creepers with these bright squash flowers. Happened to me in
2010
and again this year. I would not have even heard of
Delicata squash
if not for this time when it mysteriously appeared.
I buy butternut squash regularly and the seeds go into the compost and the compost go into the garden plot and some of the seeds sprout and grow into plants and bear fruit. Mystery solved. Butternut squash requires a large area for it grow and for the vines to spread. It will pretty much squish any other plant in its path. So choose a place where they can spread out. Lucky for me the plant I have chose a perfect spot by itself.
During the summer months the squash plants bears a lot of flowers. Most of them are male flower I later learned. The few that try to set fruit shriveled and dried. I decide that nothing is going to come of the plants and pull out a few but for some reason or other leave one without pulling it out. That proved to be a smart thing because when the cooler weather hit in September I could see a lot more fruit. Some even grew to full length, green now but ready to change color. Apparently butternut squash can be stored only after they ripen and the skins hardens else they rot. The perfectly matured one can last for 2-3 months in good storage conditions.
I am keeping my fingers crossed for them to ripen before the frost and cold hits our area. Butternut squash has been one my favorite vegetables, slightly sweet and tastes great in pretty much anything. i have tried making soups, curries, stir fries and pasta. The slightly sweet taste of the squash lends itself nicely to any recipe. I have made savory chapatis with it and it is a delight in that too.
If you do not have butternut squash in your garden, not to worry. Farmers markets and grocery have them now that they are in season. Some recipes with butternut squash if you want to give it a try.