I never imagined that I would experience another government shutdown after the Gingrich engineered 1995 one but hey here we are. Republicans did not come out smelling like roses after the last one but they are hoping this time will be different. Best Of Luck! I am no Obama fan and I still feel that the Republicans have no right to hold the country hostage and make us a laughing stock of the rest of the world. South Africa is calling us a 'banana republic'. Those countries whom US lectured about fiscal responsibility the advisers are now the laughing stock. Leaving aside US's reputation aboard how about the hundreds of thousands of people who are out of work, the military personnel who will go without salaries - those same people the Republicans profess to care about the most. Now everybody and their cousin will start equating Washington to the politicians and start calling our fair city names. Remember Ted Cruz - wait the guy is from Texas and born in Canada and still holding Canadian citizenship but wants to run for President. Wait a minute he will get free care in his other country but to heck with the others for whom US is their only country. Blame people like him for Washington's bad reputation. I can talk a lot about who is at fault but it does not help so we will move on to the recipe.
I have never tasted Palak Panner till I came here to the US. Yes! that is a true statement. And from the looks of it I took an instant dislike to it. My dislike of paneer did not help either. Pieces of paneer lying listlessly in this green glop which was bland and on top of that with lots of cream added was not appetizing and I was not sure why people liked to eat it. Moreover here in the US every third person I met asked me the recipe for Palak Paneer. Little did they know I was as clueless as them. Anyway I usually avoid it but last couple of times a friend had catered dinner and this was on the menu. Instead of paneer they were potatoes and the spinach was not bland, it actually had a bite to it and there was no cream added. Quite a few years ago a friend we were visiting in Chicago made palak chicken which was delicious because it was spicy and tangy. That became the model of how I would make aloo palak. I also strongly recommend adding a bunch of methi leaves for the best taste. Make sure the spinach is cooked till the moisture is gone else it will taste so so. While cream in my opinion is a bad idea a few tsp of butter actually enhances the taste of the spinach.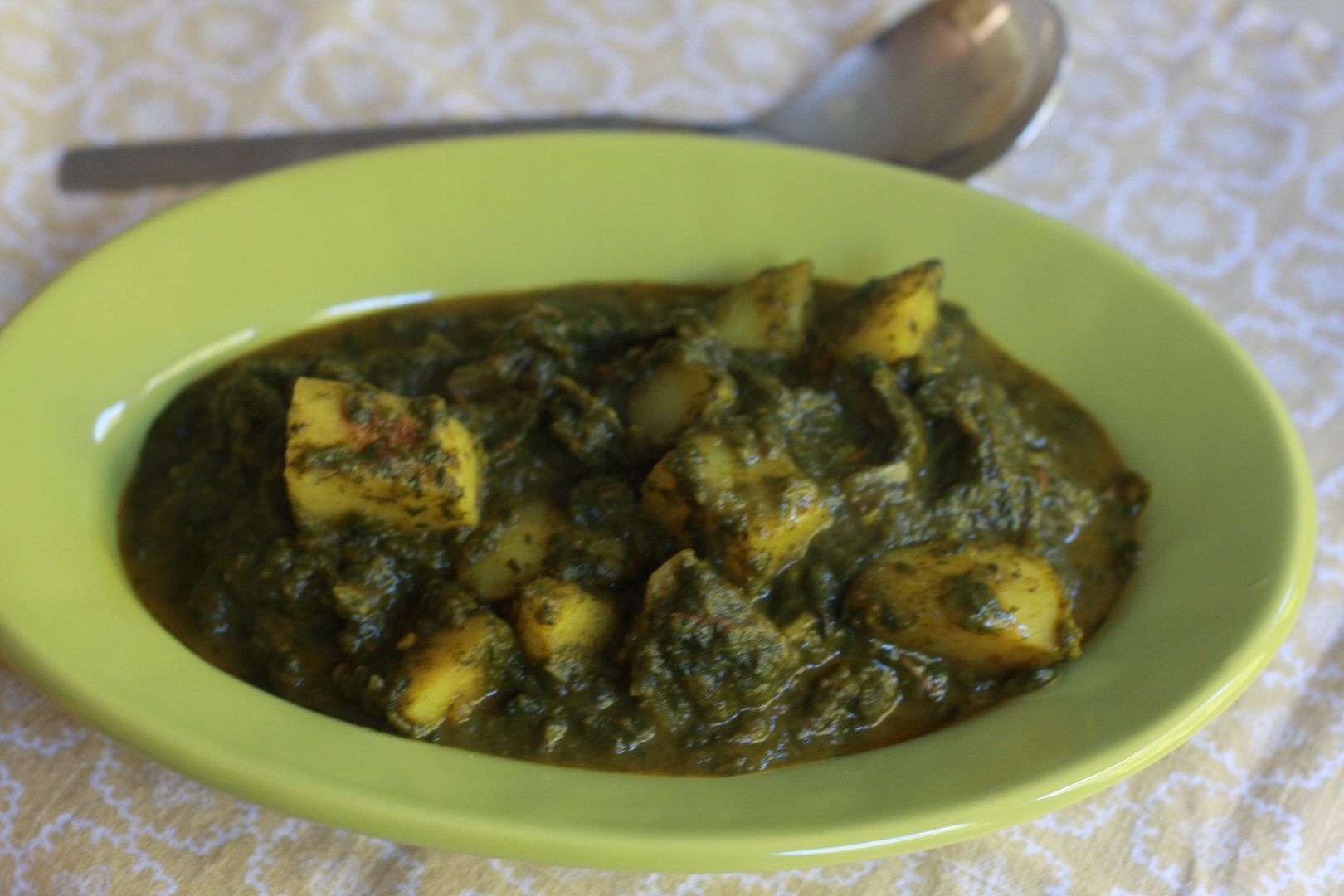 Aloo Palak - Potatoes in spinach curry Preparation Time:10 minutes Cooking Time:40 minutes Ingredients

6 cups of spinach leaves loosely packed
1 cup of methi leaves or 2 cubes of frozen methi
1 cup of onions chopped fine
8-10 green chilies (or more depending on how hot)
2 ripe tomatoes diced
4 cloves of garlic
2 inch piece of garlic
1 tsp of red chili powder
1 tbsp of coriander powder
1 tsp cumin powder
3 cup of peeled diced potatoes
2 tsp of butter or ghee or olive oil for vegan
1 tsp of oil + 2 tsp of oil
salt to taste
seasonings - cumin seeds and a few methi seeds

Method

In a deep bottomed pan heat the oil and when hot add the seasonings.
Add the onions and green chilies and saute till the onion starts to get translucent.
Add in the garlic and ginger and saute for a minute more.
Add in the powders (cumin, coriander and red chili) and give it a good mix.
Add in the spinach, methi leaves and salt and let it cook for about 5-8 minutes.
While the spinach is cooking get the potatoes ready. In a saute pan add the 2 tsp (if required more) of oil to coat the pan. Add the potatoes and let them get browned on all sides. Set aside.
Back to the spinach, turn off the heat and blend it to a fairly smooth paste. Hand blender works best. If using regular blender let it cool down and then blend.
Once blended turn the heat back on and let it cook on medium low heat for about 10 minutes. Now add in the roasted potatoes and continue to cook till oil starts to leave the sides. Add the butter in between. The whole process of cooking down the spinach should take about 20-25 minutes for the best taste.

Is a great combination for naan, chapathi or any Indian bread. Tastes good with rice as well.