How early can you teach kids about financial responsibility? After the financial crisis everyone who has anything to do with finance and kids are of the consensus that it is never too early to teach kids financial literacy. The earlier the better is their opinion. I agree 100%. Financial sense does not arrive overnight when the kids are off to college. It comes by trial and error and being given responsibility doesn't it?. Anyway like with most things while growing up in India nothing was explicitly taught, instead we learned through watching, listening and observing. While this was fine for some things it perhaps was not enough for managing one's finances. That is unless you lived in a hostel and had to manage money in some form or the other, be it tuition money, hostel and mess fees or pocket money. Most kids don't have that opportunity. So it is not surprising that while some of us can deal with money efficiently some of us can't and end up in deep trouble. DD2 all of 8 years old had just that kind of teachable moment a few days ago. She was going out for a movie and lunch after that with her friend and his mom. She took $20 with her. She came home happy and singing with a pack of Pokeman cards of which she has only several hundred of them all dumped in a box and left in the basement and never touched unless I threaten to throw them in the trash. I asked her to give a breakdown of how she spent the money. She did that pretty well. Her friend's mom had paid for the movie tickets so she decided to buy the cards with the leftover money. When I asked her how she could spend money on useless Pokeman cards her answer was it was "her" and was free to spend the money as she wanted. This gave me an opening to talk about handling money and the related responsibilities that go with having money. We had a talk about useful and useless things and there was not much difference between her money and my money. If she was not careful pretty soon her piggy bank will be empty. That got her thinking and hopefully on a path to avoid buying things for just the sake of buying. This has also given me an opportunity to talk about finances now on a regular basis. Bring up hypothetical situations and ask how they will utilize the money on hand. Hopefully this kind of talk will prepare them to deal with situation when they arise. I know I have a long way to go and it is even more urgent for the teenager at home.
Do you all talk about money and finances with your children? What do you think is the right age for this kind of conversation?
Have you heard of the website
Mr.Money Moustache
? I enjoy reading this site and more importantly admire how he managed to retire in his 30s. I read the site more for entertainment value because I'd like to think we are already doing the more common sense advices he has. Well anyway if you are interested in money matters for getting some ideas or for entertainment here is the
link
. Are there any money/finance sites that you all enjoy? Please share.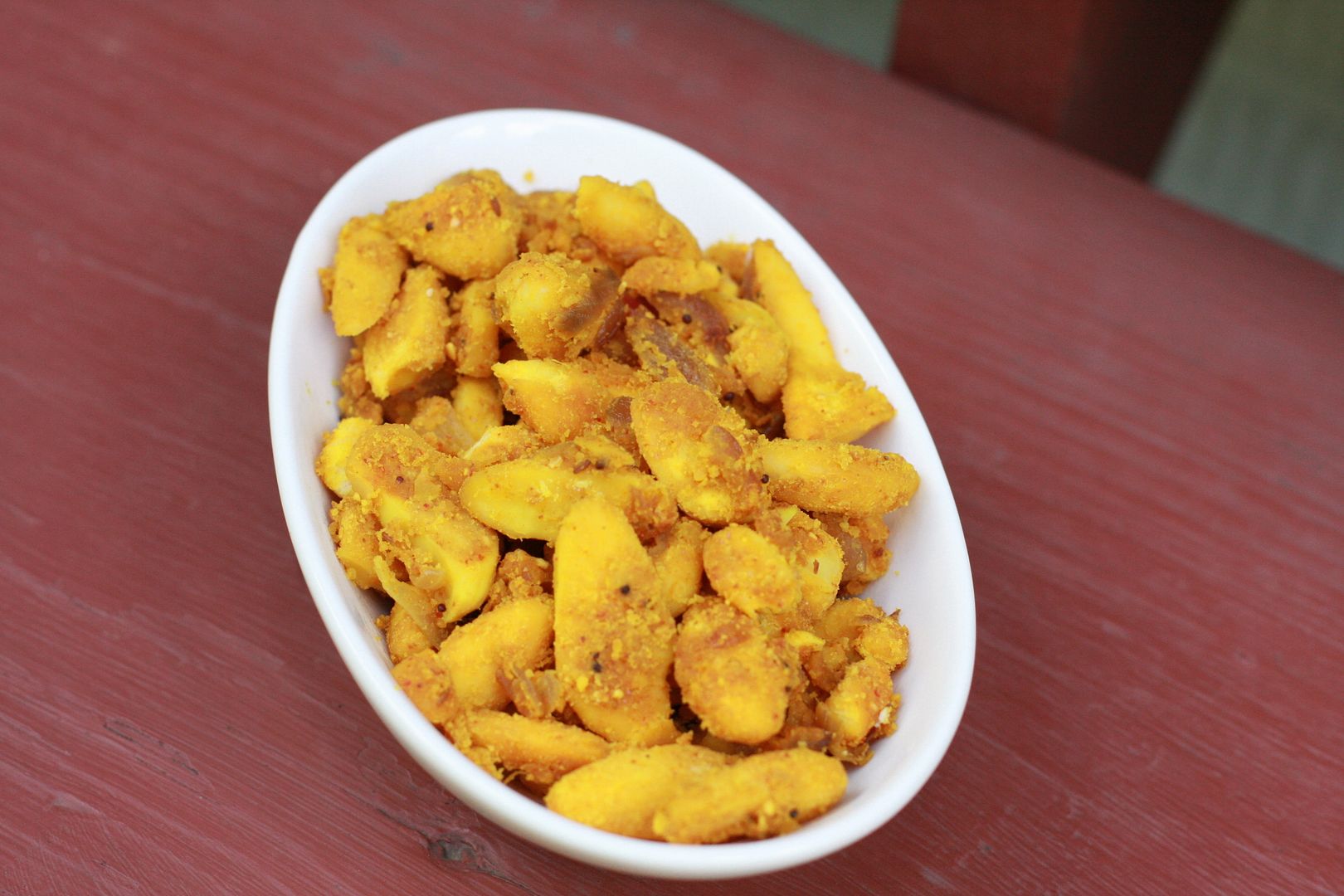 Well moving on to the recipe. I have always loved jack fruit seeds while DD2 hates the smell of jack fruit she enjoys the seeds. Those days when we were kids the cooking in my grandparents' houses was done using firewood. The burning embers that were left behind were perfect for roasting the dried jack fruit seeds. That is perhaps my most favorite way of eating the seeds. When we visited India in July it perhaps a little late for jack fruit and we did not get a chance to taste them. If we had visited Kerala or Ooty we might have come across some of them. Oh Well! Now I don't have regular access to jack fruit but occasionally we would get them at the Asian Markets. But the most common way it is available to us here in the US is as frozen precooked seeds. I can never resist buying them but that does not necessarily mean cooking them immediately. I had a packet laying in the fridge and no other vegetable to cook and it finally go cooked.
Jack Fruit Seeds Roast - Palakottai Varuval Preparation Time:10 minutes Cooking Time:20 minutes (for precooked frozen seeds) 35 (for fresh/dried seeds) Ingredients

3 cups of cooked jack fruit seeds
1 cup of chopped onions

4 garlic cloves smashed and skin removed and chopped


1 tbsp red chili powder


1 tsp turmeric powder


2 tbsp roasted channa dal (pottukadalai / dalia)


1/2 tsp of cumin seeds


1 red chili


salt to taste


1 - 1 1/2 tbsp sesame/gingelly oil (nallaennai) (recommended)


1 tsp of regular oil or sesame oil


seasonings: mustard seeds, cumin seeds and curry leaves



Method

If using fresh dried jack fruit seeds cook the seeds in a pressure cooker or on a stove top. Take care not to make them mushy.
In a wide mouthed pan or kadai heat 1 tsp of oil and when hot add the seasonings - mustard seeds and cumin seeds followed by curry leaves.
When the mustard seeds starts to pop add the chopped onions and the smashed garlic and saute till the onions are just starting to turn brown.
Now add the cooked/frozen jack fruit seeds and let half the moisture be gone.
Add the turmeric powder and chili powder and give a good mix. Let them saute for about 5 more minutes.
In the meantime powder the roasted channa dal (pottukadalai) with the cumin seeds and the red chili to a slightly coarse powder but not smooth. A coffee grinder works best.
Add the channa dal powder and salt to the jack fruit seeds and mix it in well. From this point on drizzle the sesame oil and continue to roast till the mixture is dry and nicely roasted.

Serve them as is or as a side for rice and dal.
I was a little apprehensive about the frozen jack fruit seeds but the taste was fantastic and whole family wanted more.