When we reached India the mango season was at its fag end but we still got to taste a good variety of them. After a couple of days the interest wears off - yes to the point of turning them down. You will do that once you start eating them for morning, noon and night. Raw mango on the other hand is different, never loses it's thrall for me no matter how often I eat it.
As soon as we reached here after the India trip on my first run to the Indian grocery store I pick out a few raw mangoes with the intention of making sambhar with it but it lay in the fridge for a couple of weeks till DD finally notices it and asks me to make pickle with it - the instant kind that she enjoyed the last time I made them. So here we are. There are quite possibly a number of ways to make this as there are number of cooks making them. If you like a quick mango pickle recipe with garlic, green chilies and ginger follow
this recipe
. I have added lime juice because the mangoes were not very sour and also this works if the mango is a slightly ripe as well.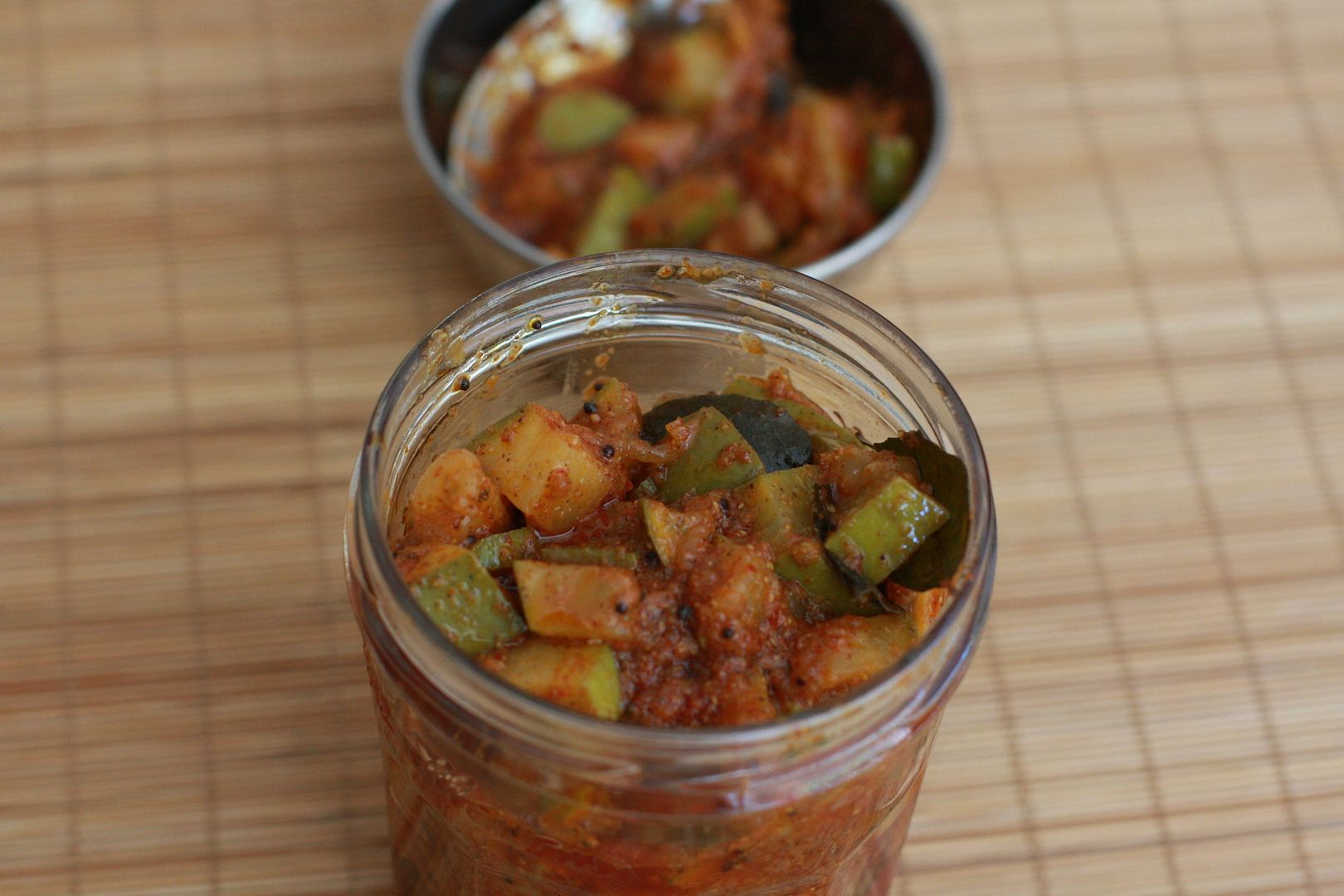 Instant Mango Pickle Preparation Time:10 minutes Cooking Time:20 minutes Ingredients

2 raw mangoes seeded and chopped into small cubes (1 1/2 cups)
1/4 cup of sesame oil/gingelly oil (nallennai)
1/2 - 1 tsp mustard seeds + 1/4 tsp for seasoning
1/2 tsp fendugreek seeds
3 red chilies
2 sprigs of curry leaves washed and dried completely (a few minutes in the microwave)
a small piece of asfoetida
2 tbsp red chili powder (or to taste)
2 tsp salt
1/2 tbsp lime juice (if the mango is not sour)

Method

For the powder
Dry roast the fengugreek seeds,mustard seeds and the asfoetida for a couple of minutes till the fenugreek seeds start to turn a darker shade. Add in the red chilies and roast for a 1/2 minute more. Cool and blend to a powder. A spice grinder or coffee grinder works for this.
Now heat the oil till it starts to smoke a bit. Add the mustard seeds and curry leaves. Now add the mango pieces and give a good mix. Add in the spice powder, red chili powder and salt. Mix and cook for a couple of minutes
Add the lime juice cook for another minute and turn off the heat.
Cool and store. Stays for a week outside. Refrigeration is better if it is going to last longer.