I got some roasted Hatch Chilies a specialty of New Mexico sent home by one of DH's colleagues. There are a couple of guys at his work who enjoy trying the food that DH packs for his lunch like this
aloo paratha
,
Rustic Chicken curry
,
Spicy Vegetarian Beans Chili
or this
Rajma Paneer Biryani
. I usually pack a small box for one of them who likes to try different kinds of foods.
Anyway I did not realize there were others who were trying the food as well till this big bag of roasted New Mexican Peppers came home. This other colleague's mom ordered a big batch from New Mexico and I got a substantial stash. I have been on the lookout for making a recipe ever since that will highlight the flavor of these chilies. I added them to some
Lamb Bean Chile
gave a nice smoky flavor but the chilies by themselves did not stand out.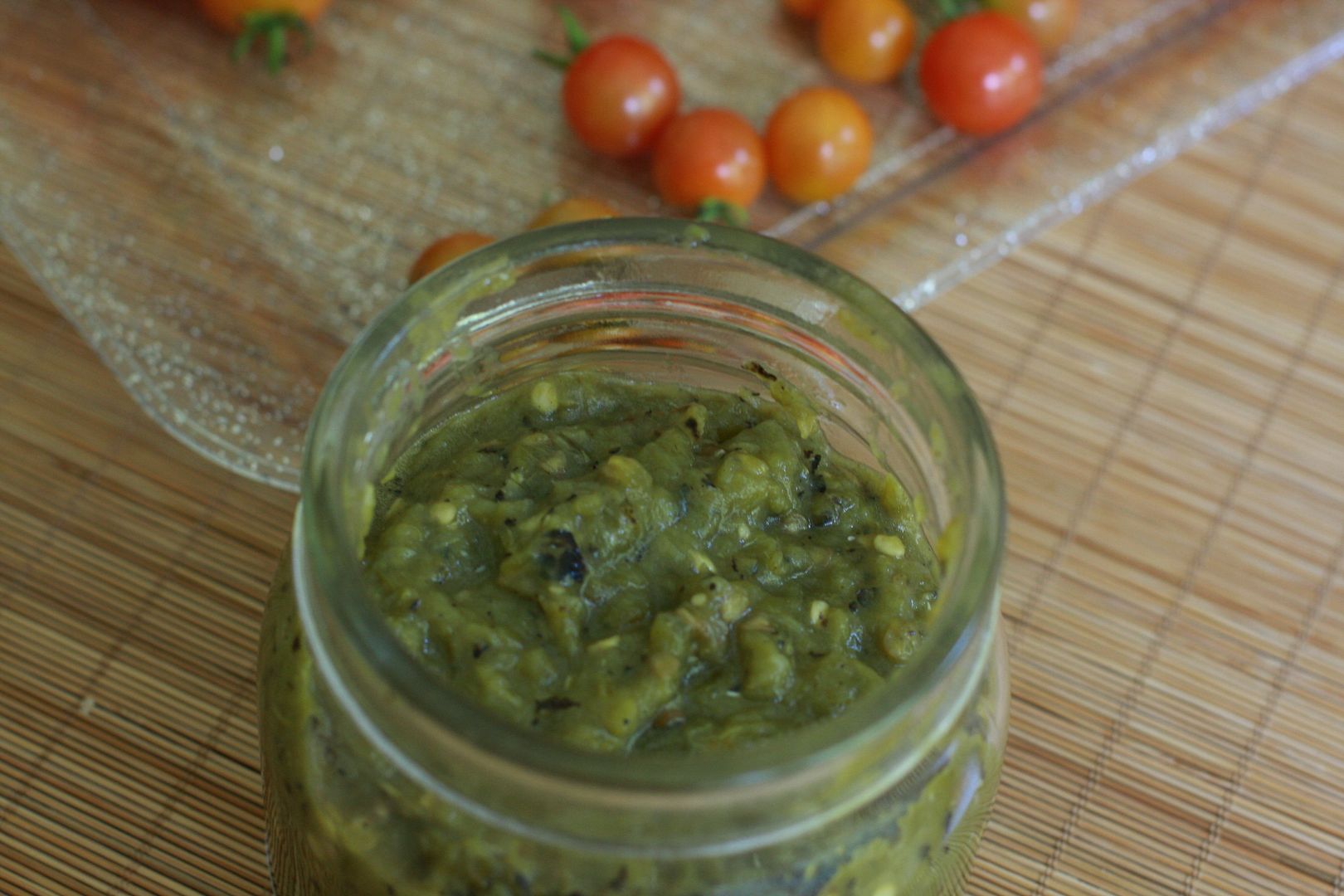 These chilies are not very spicy so I decided to give it a try in a salsa which would be a dip for corn tortilla chips and as a topping for some Tostada bowls we were having with beans and chicken. These chilies are not too hot but have the right amount of kick to it. Store bought salsa be it with tomatoes or otherwise never really taste fresh. Another incentive to give this a try.
If you do not get Hatch Chilies any chili like Poblano (might be a bit on the spicier side), bell peppers, Anaheim, banana peppers or even jalapenos will work. Roast them on the stove or toaster oven - cool in a brown bag, peel the skin and use. I have also seen smoked chilies in jars.
Roasted Pepper and Tomatillo Salsa Preparation Time:20 minutes (if smoking the Chili Peppers) Cooking Time:25 minutes Ingredients

2 medium sized Tomatillos diced
1 1/2 cups of minced smoked chilies (about 10-12 chili peppers)
1/2 tbsp of distilled white vinegar or Pique(
1 tsp of sugar (see Note:)
2-3 tsp of olive oil

Method

In a sauce pan heat 1/2 tsp of oil and when hot add the tomatillos and let it cook till they are completely soft and can fall apart when pressed with the back of a spatula takes about 8-10 minutes.
In a food processor minced the smoked chilis (seeds and all) so there are no chunks but take care not to make a paste.
Add the minced chilies to the tomatillos along with the sugar if using and cook for about 10 minutes.
Half way through drizzle the vinegar and cook for another 2 minutes or so.
Add in the remaining olive oil and cook for another 2 minutes.
Cool and store in an airtight container. Will stay in the fridge for more than 2 weeks.

Note:
If using Pique no sugar is needed since it contains sugar already.
This condiment can be used for making fried rice, as a dip for corn chips, topping for burritos, as a spread for toast.
If you still prefer the popular tomato salsa - here is the
recipe
.