Paruppu Vadai or Masala Vadai like it is called in tea shops all over TamilNadu is one of those perfect teat time snacks. It is easy to make and can be easily be adapted to use a variety of vegetables and spices.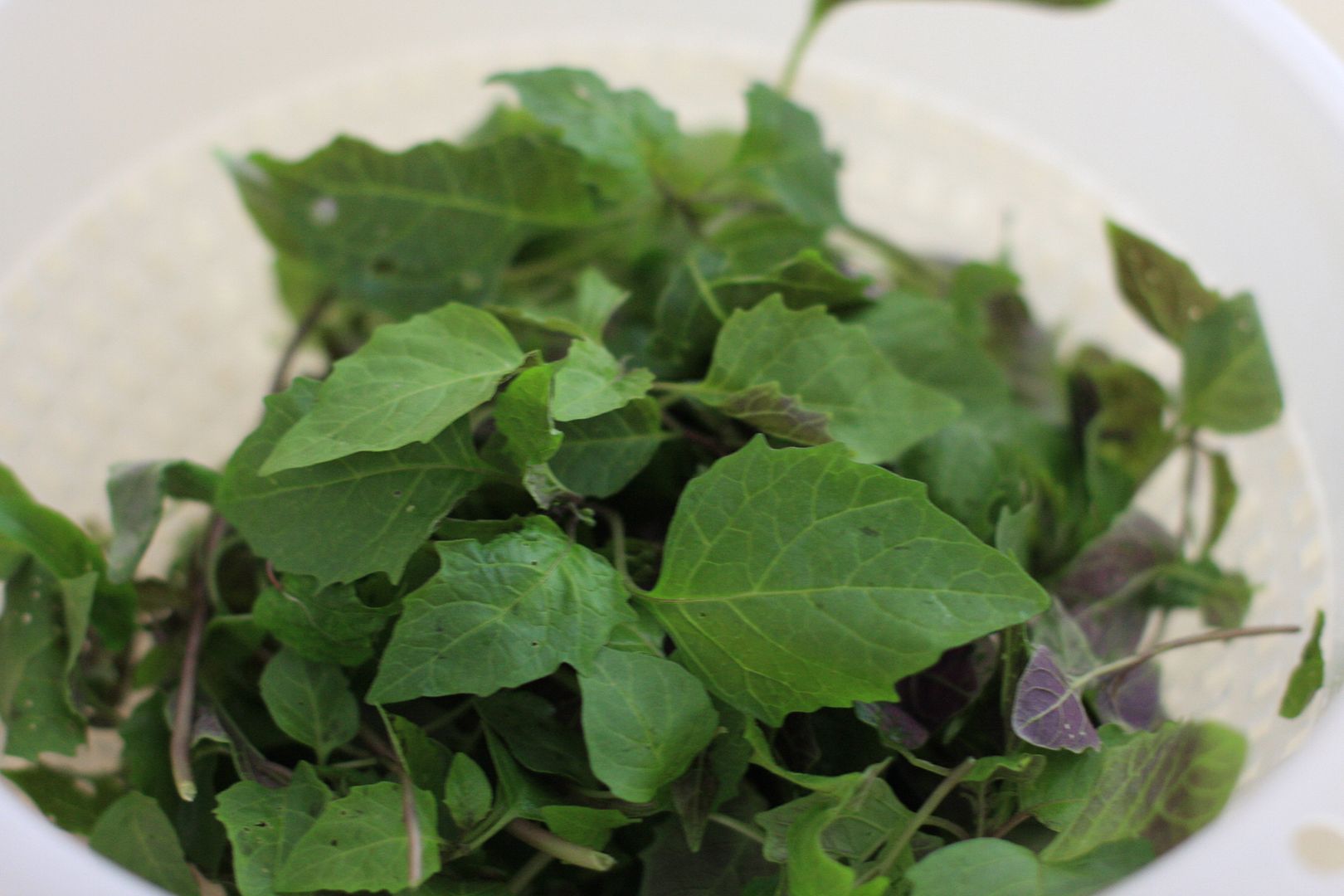 Spring time is perfect for adding home grown greens into the mix while making paruppu vadai especially if you have some growing in your yard or if you have access to a Farmer's market. Nothing can compare to eating the crunchy just off the oil vadais but they also make for good sandwich filling in the mode of a falafel provided you have left overs. Grated Zucchini, Carrots or cabbage all can be used with excellent results.
When the weather gets warm we switch to the outdoors for deep frying. Makes for family participation where each one can be tasked with doing something.
Any greens of choice can be used. I had some lush 1milagu thakkali keerai/manathakkali keerai/black nightshade and decided to use that.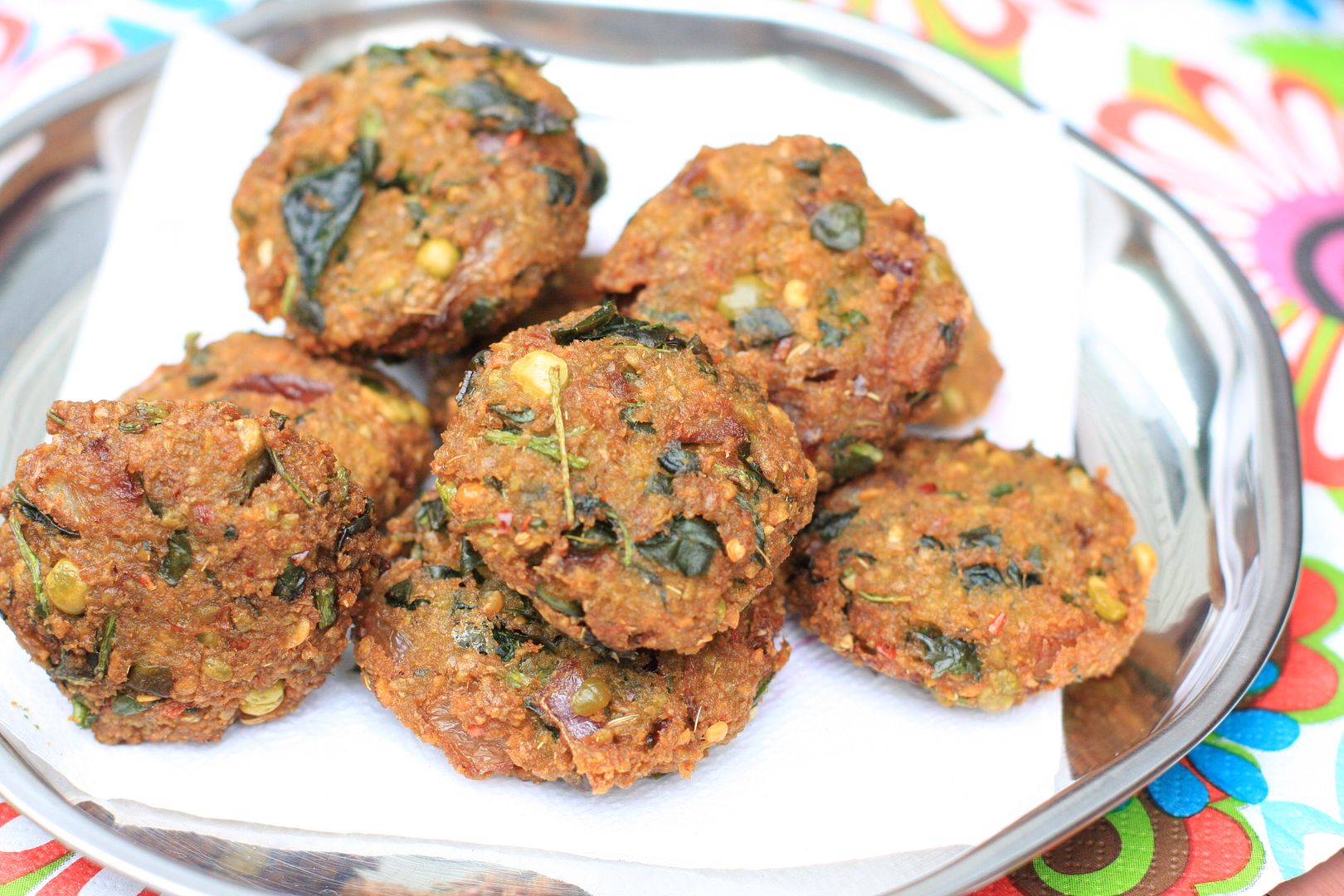 Keerai Masala Vadai - Keerai Paruppu Vadai - Split Pea Fritters Preparation Time:15 minutes + 2 hours soaking time Cooking Time:45 minutes Ingredients

2 cups of split peas (I used green split peas, bengal gram/chana dal/kadala paruppu can be used) soaked for 2 hours
6 red chilies
1 tsp fennel seeds (sombu)
1/2 tsp of cumin seeds
1/2 cup (or more) of finely chopped onions or shallots
2 packed cups of finely chopped greens (I used manathakkali keerai/milagu thakkali keerai)
2-3 tbsp of grated ginger
6-8 green chilies chopped fine
handful of chopped coriander leaves
a sprig of curry leaves chopped fine
salt to taste - 1/2 tsp
oil for deep frying

Method

Take the red chilies, fennel seeds, cumin seeds and run the blender a couple of times and let it powder a bit. Set aside a handful of soaked peas and add the rest to the blender and let it blend to a coarse or a smooth mixture. Add as little water as possible. About 1/2 tbsp or enough to get the blade spinning.
In a frying pan set the oil to heat.



Add the chopped onions,chilies, greens, coriander and curry leaves,salt and mix it into the blended peas.


Take a small lemon size ball and pat it in the palm of the hand to flatten it a bit like you would a pattie.


Test if the oil is hot by adding a small piece of the mixture. If the oil bubbles then it is hot enough for frying.


Drop the flattened pattie in the oil. Depending on the size of the pan 3-4 patties can be fried at the same time. Let it brown on both sides. Remove from the oil and drain on paper towels.

They taste great by themselves or with a side of tomato ketchup or hot sauce. Note: Make sure to use as little oil as possible to avoid the vadai from absorbing too much oil. Mix the other ingredients (like the greens and onions) as close to cooking time as possible as they will add moisture to the pea mixture.

Variations
1.
Spinach and Mint Paruppu Vadai
2.
Masala Vadai from dried and powdered split peas (with cloves and cinnamon)