I started a new contract a few months ago. In this place Fridays are free breakfast days with bagels and doughnuts. Anyway before December the bagels disappeared long before the doughnuts ever did. The first week I thought it was an aberration but this happened week after week before Thanksgiving and December. I made a mental note that I was working in a very healthy place. Once the Holidays season hit there were lot more sweets and cookies in the kitchen and I also noticed doughnuts were starting to disappear before the bagels did. According to my unscientific survey not only was I eating more cookies, candies and sweet stuff I was also noticing that everybody else was doing the same thing. And please please tell I am not the only one noticing these things! The holidays are over and the New Year is upon us and here's
Wishing everyone of you dear readers a Very Happy New Year!
New Year means new resolutions and healthy eating. I have resolved to eat more salads with a lot of legumes and this recipe is a start. Chick peas is this protein powerhouse which I realize we should eat more than we are doing now. When I say salads I do not mean green leafy vegetables but lighter cooked salads. Salads are successful when the dressing is tasty and light. I also like them to have a spicy kick and American pickles serve the purpose. If you do not have access to those, vinegar soaked green chilies would be a good substitute or a few splashes of your favorite hot sauce. I have used red rice but wild rice or even brown rice can be used.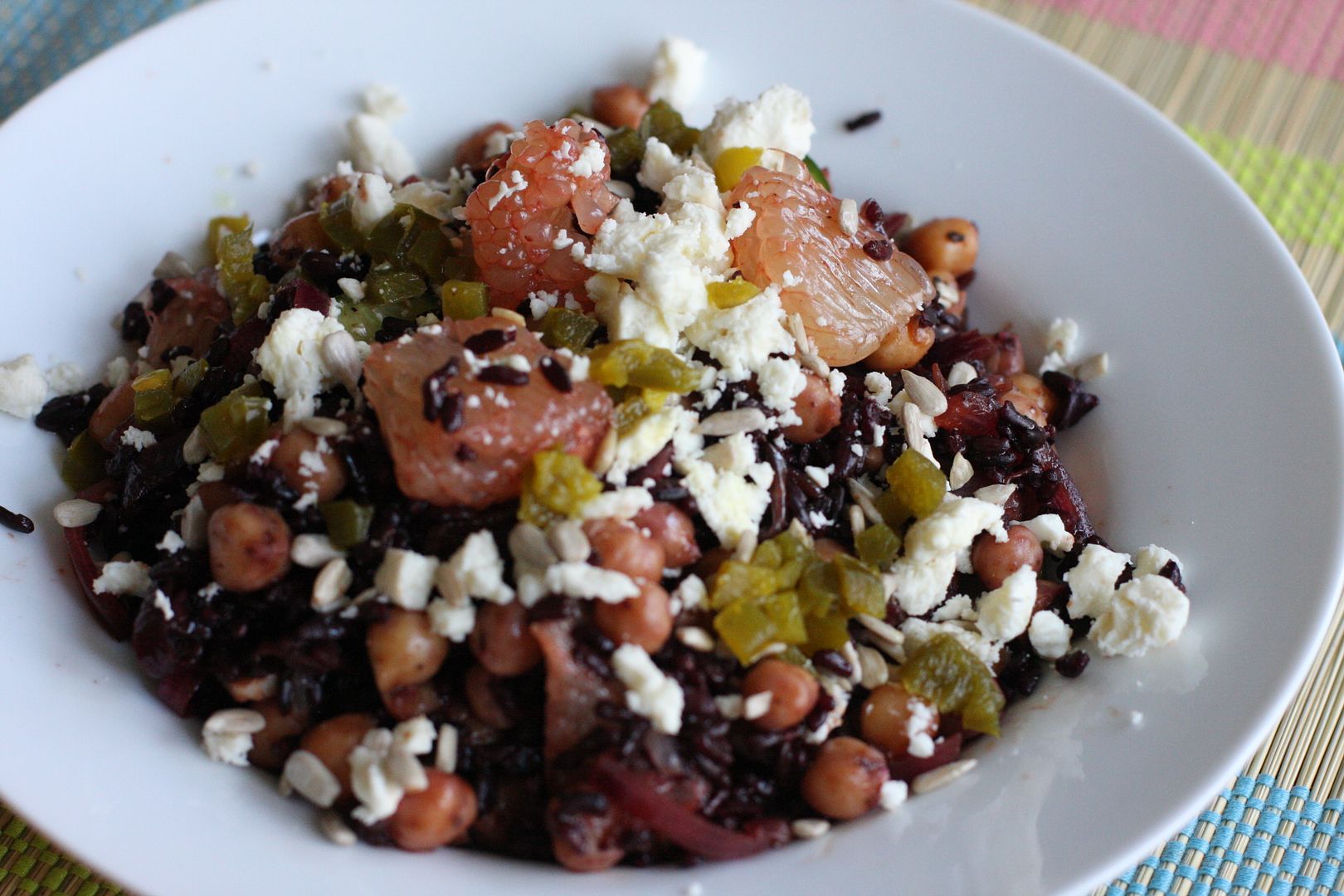 Red Rice and Chick Peas Salad Ingredients

1 cup of red rice (or any rice of choice)
2 cups of chick peas soaked overnight
3 Perisan cucumbers sliced
2 tbsp of chopped jalapeno pickled peppers
2 tbsp of lime juice + 1 tbsp of olive oil
1/2 cup of grape fruit slices
1/4 cup of feta cheese
salt to taste

Method

Cook the red rice as per instructions. Soak the rice for an hour and cook it in 2 cups of water.
Cook the chick peas until soft. Take care not to make it mushy.
In a large bowl mix together the rice and chickpeas.
Whisk together lime juice,salt and olive oil and add to the rice.
Add in the sliced cucumbers and peppers.
Add in the grape fruit and gently toss them together.
Top with feta cheese.

Can be served as lunch or dinner.