Asparagus to me is a gentle woodsy vegetable with a delicate taste and a very short shelf life. Whenever we buy asparagus the kids like to eat them roasted with a sprinkle of oil, salt and chili powder or black pepper. I never gave it much beyond that simple fact till I read
'Animal, Vegetable Miracle A Year of Food Life By Barbara Kingslover'
.
Reading the book I learned a lot more information about how the vegetable is grown and the short window that it is usually available - a 3 week period in Spring. You have got to be patient if you are growing this vegetable in your garden. It is the third year after planting that it can be harvested. If you are thinking of some fresh delicate Asparagus the window is now.
I would never have attempted soup but DD decided to cook it and need I say the soup was far more tastier than I thought it would be. Croutons were even more tastier.
Recipe Source:
Food Network - Roasted Asparagus Soup...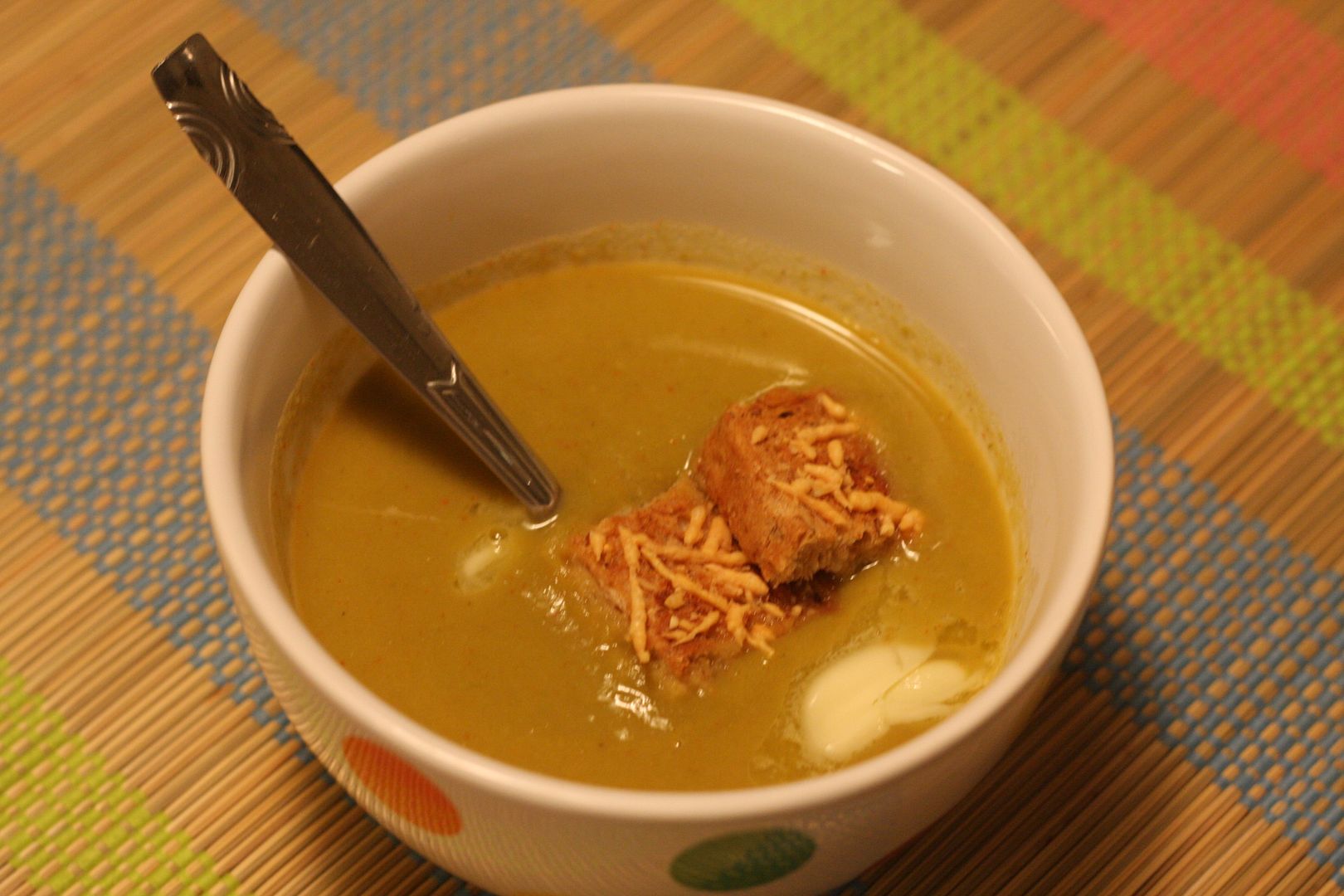 Roasted Asparagus and Potato Soup with Croutons
Ingredients
1. 12-14 stalks of asparagus (should make about 3 cups when chopped)
2. 1 Medium sized potato peeled and chopped
3. 1/4 red onion chopped
4. 2 cloves garlic minced
5. 1 tbsp olive oil
6. 2 bay leaves
7. 6 cups of Vegetable broth or Chicken broth
8. 2 tsp chili powder (or per taste)
9. 1 tsp black pepper powder
10. salt to taste

For the Croutons
1. 4 slices of whole wheat bread cut into 1 inch cubes
2. 2 tbsp grated Parmesan cheese
3. 1/2 tsp olive oil

Method
1. Toss the asparagus in olive oil, sprinkle salt and chili powder and roast the asparagus. We usually do this step in a toaster oven at 400-450F. Cool and chop.
2. In a sauce pan heat the remaining olive oil and roast the onions and garlic and cook until soft.
3. Add the bay leaves and cook for another minute .
4. Add the asparagus, potato and the broth and let it simmer in medium heat.
5. Taste and add black pepper if required. Turn of heat when the potatoes are soft.
6. Remove bay leaves and puree the contents till smooth.

Croutons
1. While the soup is cooking, toss the bread slices slightly in the olive oil and sprinkle the Parmesan cheese on the bread cubes.
2. Roast the bread cubes in the toaster oven for 8-10 minutes or till the bread is slightly toasted and turn golden brown.

Ladle the soup with the croutons added on top along with a dab of butter which is purely optional. (see note)