I do not mind snow during the weekend. I can laze around and not be worried about hitting the road and wondering when the car might hit a patch of dry ice and skid. But snow in October? That is disconcerting. Why snow why this early? Is the winter going to be as bad as the year
before
? Let's hope not.
My eggplant plants which did not fruit during July and August like they normally do and they have been going strong through September and October. The snow put an end to that.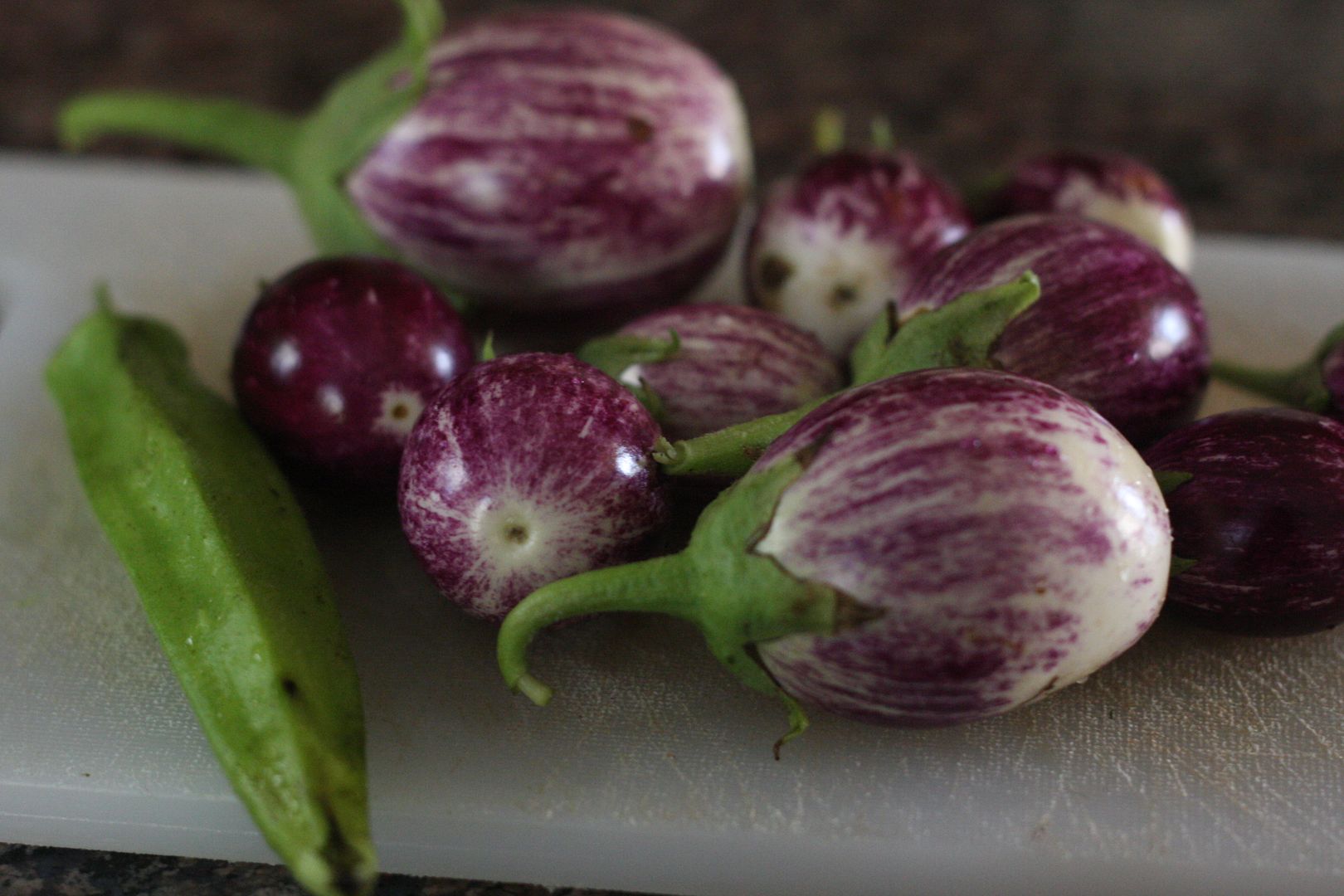 Today's recipe is perfect for a day like today. Kheema cooked the way my aunt does and the recipe passed to me via my cousin. The recipe can be used for minced lamb and goat. The moisture for cooking comes from the added cabbage.
Lamb Kheema
Ingredients
1. 1 lb minced lamb/goat
2. 1 1/2 cups of minced shallots (or red onions)
3. 6-8 garlic cloves minced
4. 1 tbsp grated ginger
5. 1 cup of finely shredded cabbage
6. 1 tsp pepper powder
7. 1 tsp turmeric powder
8. 2 tsp cumin powder
9. 8-10 slit green chilies (adjust as per taste)
10. 1/2 tbsp dry masala powder (any brand any kind works) or use the kuzhambu thool
11.salt to taste
12. 1 tbsp of tomato paste
13. 2-3 tsp of oil
14. seasonings: curry leaves, fennel seeds, 2 bay leaves

Method
1. In a flat wide mouthed pan or pressure pan heat oil and add the seasonings one by one.
2. Add the green chilies and onions and saute till the onions are brown. Mid way add the garlic and ginger and saute for another 4-5 minutes.
3. Add the powders one by one (6-8) and mix them in well.
4. Add the tomato paste in a hot part of the pan and mix it in.
4. Add the minced meat and mix well into the masala.
5. Add salt and spread the cabbage on top and sprinkle about 1/2 tbsp of water.
6. Cover and cook for 12-15 minutes or for three whistles in the pressure pan.

Note:
1. The sprinkling of water is not necessary. If you do you might need to cook the meat till the moisture evaporates.

Serve with chapatis or a side for rice.