Remember those half-days when you were in school in India, what is called early release here in the US? By the time the school bus dropped us off at the corner at half past one we were literally starving. Slippers were thrown helter skelter as we were at liberty to wear 'color dress' that day, dropped the school bag and dashed to the dinning table to see what was for lunch. Hoping it would be
uppu paruppu (seasoned dal) and vendakkai puzhi kuzhambu (okra in tamarind sauce)
or
Kathirikkai Kara Kuzhambu
. It did not really matter whatever was there tasted delicious in all that hunger. We filled our plates and filled our stomachs in no time.
As for DD, she asks for a light snacky lunch and is overjoyed if there is chapatis and potatoes when she comes home prompting a quick flash back to the half-days of my youth. Couple of weeks ago on the last day of school which was an early release I had promised to make baby potatoes and chapatis.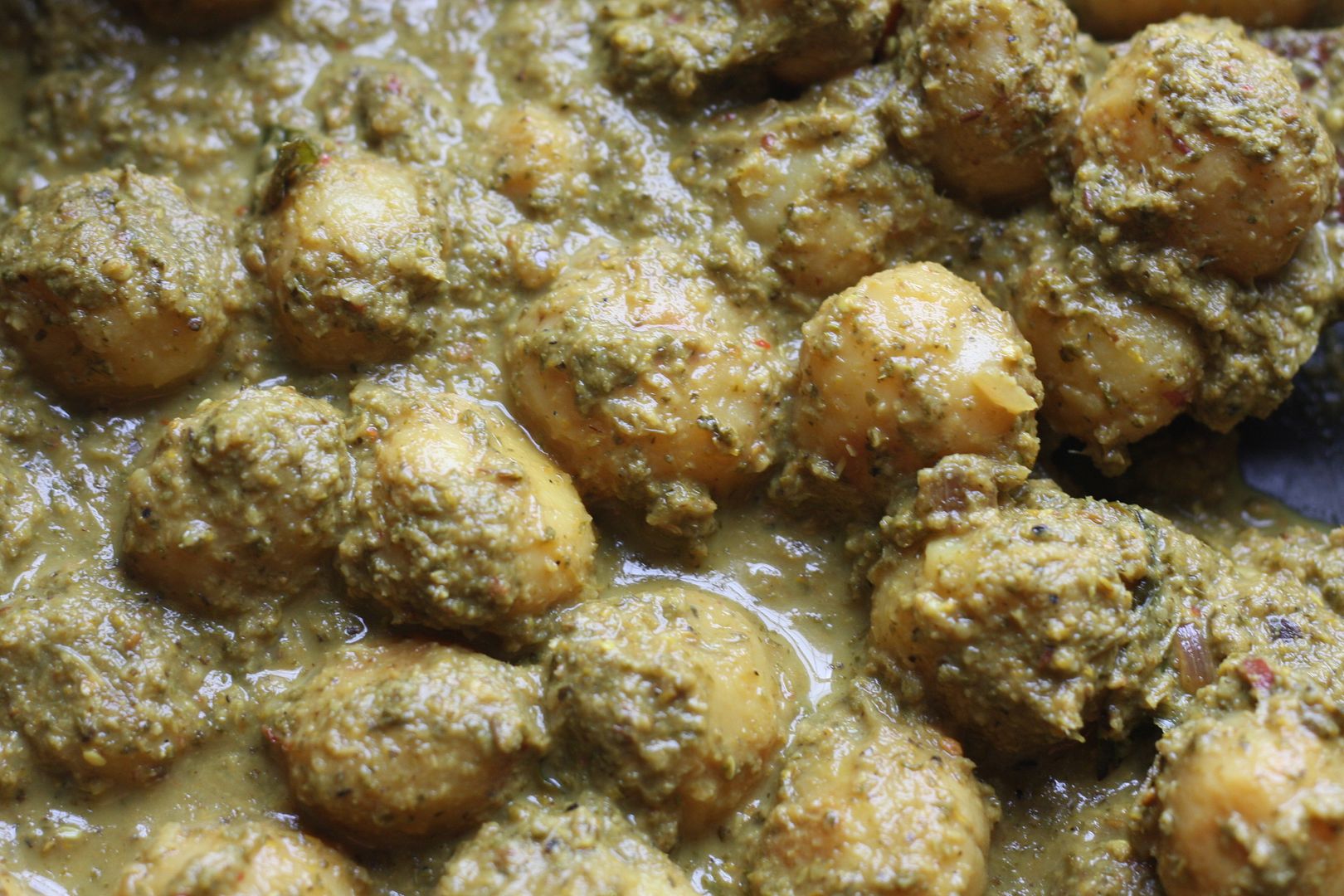 I washed and peeled the baby potatoes intending to make one of the ubiquitous tomato-onion based gravies but on second thoughts I also wanted to put to good use the coriander leaves that were starting to go bad and the mint overflowing in the front yard. Mint is left to grow wild because they are not appetizing to the deer which pretty much eat everything else. Baby potatoes in mint and coriander sauce sounded appetizing and new. The gravy is almost like adding potatoes to a mint chutney.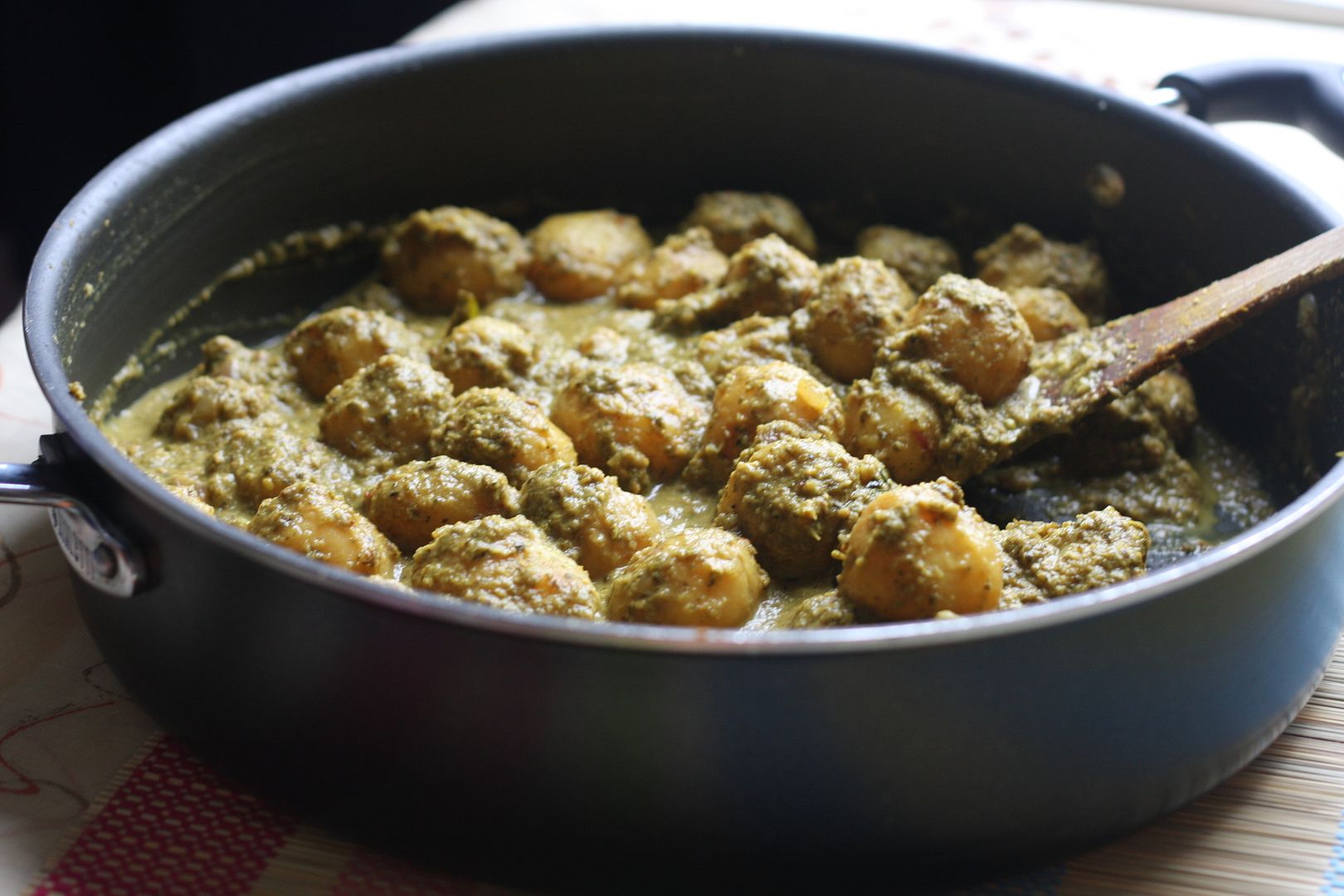 Here is a question,
Say your grocery store is offering a sale-4 bunches of coriander leaves for a $1. Would you go ahead and buy it even if you had no immediate need for that much leaves which are sure to go bad in a couple of days (which is the case when they are on sale!) or buy only how much you need?
Baby Potatoes in a spicy mint and coriander sauce
Ingredients
1. 20 baby potatoes boiled, peeled and pricked with a fork
2. 3 packed cups of mint leaves
3. 1 cup of coriander leaves (optional)
4. 3/4 cup red onion chopped roughly + 2 tbsp chopped fine
5. 4-5 red chilies (reduce for less heat)
6. 1/2 inch piece of ginger
7. a grape sized ball of tamarind (substitute with 1 tbsp amchur powder)
8. 1/2 tbsp coriander seeds + 1 tsp cumin seeds + 1 tsp black pepper
9. 1 tomato - optional
10. 2 tbsp grated fresh/frozen coconut - optional
11. seasonings: cumin and curry leaves
12. salt to taste
13. 2 tsp oil


Method
1. In a pan heat a tiny bit of oil, saute all in 8 and red chilies. Set aside to blend
2. In the same pan saute the onions, ginger, tamarind and when the onions are nice and brown add the mint and coriander leaves and saute till they are wilted
3. Add the coconut and saute for a minute followed by the tomatoes (2 minutes) and salt.
4. Cool and blend to a paste along with the coriander,cumin, pepper and red chilies. Add as much water as you need for the consistency of gravy you prefer
5. In the pan add the rest of the oil and add the seasonings followed by the onions and saute till they turn pink
6. Now add the potatoes and saute for 3-4 minutes till the outsides turn slight brown
7. Add the blended paste and 1/2 cup of water (I wanted a thick gravy), check for salt and let it simmer for 6-8 minutes.
Tastes great as a side for rotis or with rice the next day. Looks like I was not just me thinking of
minty potatoes
.