I am sure you all remember the fanfare with which I started the
Bengali cooking series
back in March. I had a mile long list of Bengali dishes to cook and starting the series seemed like a good idea because I was planning to cook at least one dish a week. That sort of fell in the way side.
You all think that
Sandeepa
just blogs about Bengali recipes? No! Don't ask me when, Sandeepa (don't roll your eyes, yes it did take me that long) had sent me that mother of all Bengali spices - panch phoran to induct me into the pleasures of cooking Bengali dishes. I saved the package safely and finally a few days after Sandeepa posted the recipe for
Palang Shaak er Ghonto
decided to retrieve it from the safe and give the recipe a go with just the Ghonto, the Palang got cooked separtely different style.
Of all the spices in the panch phoran nigella seeds is something I have never used before the aroma though new was just intoxicating.
I left the spinach out of the stir fry because the
mashed greens
a very simple recipe is a family favorite. Rice, greens and the stir fry were all made just for each other.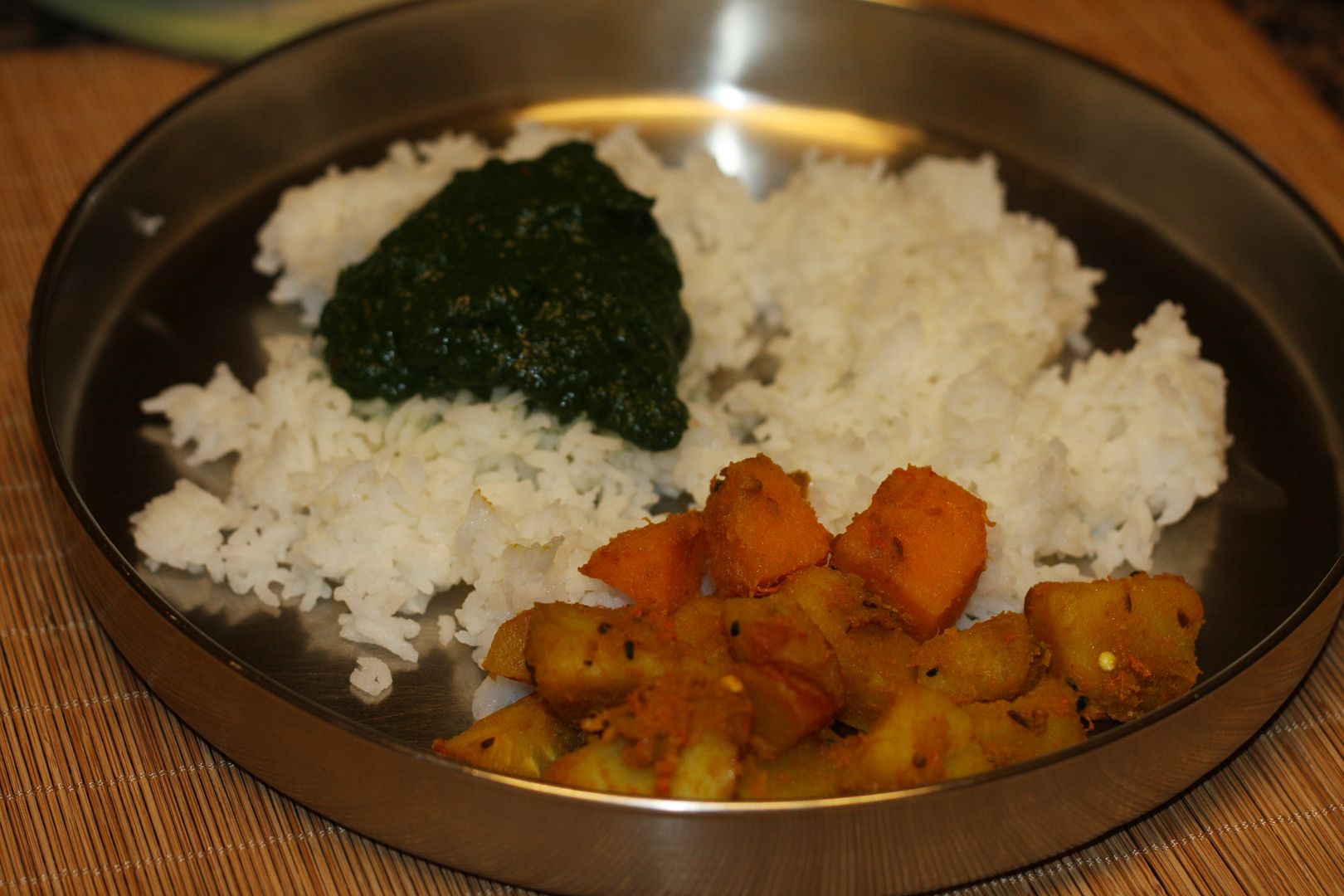 Recipe Source:Palang Shaak er Ghonto
Butternut squash, Potatoes and Radish stir fry
Ingredients
1. 2 Cups of cubed butternut squash
2. 1 Cup Potatoes cubed
3. 1/4 Cup Red Radish cubed
4. 3 green chilies slit
5. 2 red chilies broken in half
6. 2 tsp panch phoran
7. 1 tsp sambhar powder optional (in lieu of the cumin powder)
8. 1 tsp oil
9. salt to taste
Method
1. In a wide mouthed pan heat the oil and the green and red chilies and the panch phoran. When they get a bit browned,
2. Add all the veggies mix in with panch phoran, close the lid and cook for 10-12 minutes ( I like the squash a bit mushy so the potatoes and the squash got tossed together, else cook the potatoes first followed by the squash after 5 minutes)
3. Open the lid add the sambhar powder and saute for a few more minutes.

Serve with rice and mashed greens