Research says physical activity improves student performance. We pay much more attention when research validates something that we intutively know. Outdoors and exposure to fresh air provides the stimulation that not only the body but the mind also craves. I read somewhere that getting out and just staring at a tree does a whole deal of good than doing nothing at all.
Over the weekend we did our
annual spring cleanup
. The pond was teeming with tadpoles and turtles and provided great learning opportunity for the kids who participated. The pond area also attracts a lot of birds, ducks, cranes and hawks. The physical activity of bending up and down gives the body a total workout with the muscles protesting painfully the next day but the satisfication to see the area clean is well worth the discomfort.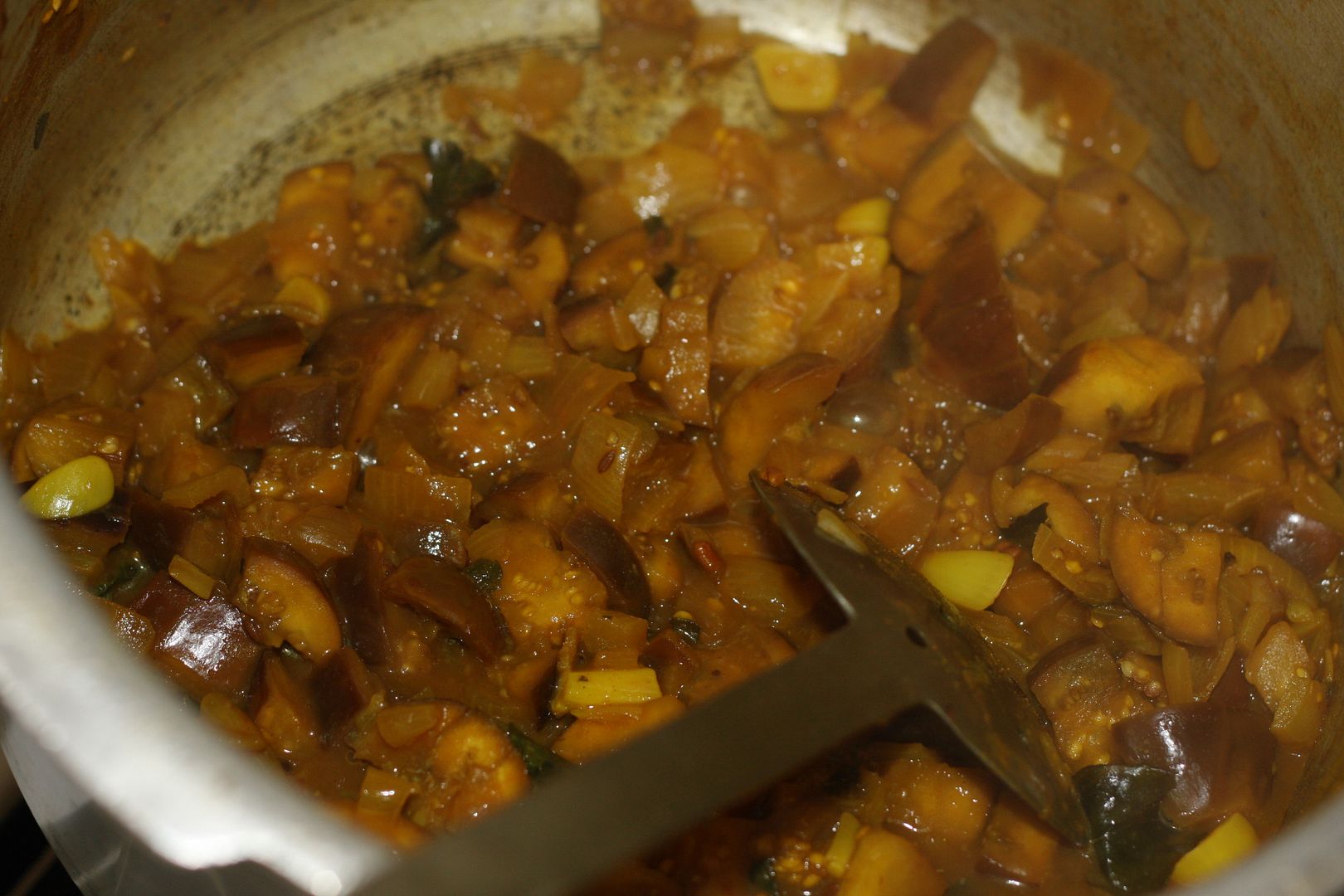 Now on to the recipe,
Green is good applies to the food we eat. Tasty whole moong paired with some green beans with some coconut, green chili paste was what I was planning. The few leftover green beans were not suitable for consumption and all I had were a few brinjals. Nothing pairs well like brinjals and tamarind and this curry was born. Pairs well with rice or chapatis.

Whole moong with brinjals cooked with tamarind and coconut
1. 1 cup whole moong beans cooked (take care not to turn them to mush)
2. 5-6 brinjal chopped into small pieces
3. 4-5 shallots chopped fine
4. garlic cloves a few chopped
5. 1/2 cup of tamarind pulp from a small grape sized piece
6. 1/2 tbsp sambhar powder + 2 tsp tamrind powder
7. seasonings: mustard seeds 1/2 tsp , methi seeds a few, cumin seeds and curry leaves
8. 1 tsp ghee or oil

For the paste
1. 1 1/2 tbsp grated coconut
2. 3 green chilies
3. 1 tsp cumin seeds

Blend to a paste with a bit of water

Method
1. Heat the ghee in a heavy bottomed pan, add the seasonings and when the mustard starts to pop
2. add the chopped shallots,garlic and saute for a few minutes followed by the chopped brinjal and saute for a few more minutes.
3. Add the sambhar powder,turmeric powder and give it a good mix. Add the tamarind water and let it come to a boil and let it cook till the brinjal is soft.
4. Add the cooked moong dal, salt and let it boil for 5-6 minutes.

Serve with rice or chapatis.

Off this goes to
MLLA-22
hosted by dear Sowjanya of the tasteful Ruchika Cooks, an event originally started by
Susan - Well Seasoned Cook
.