I have come to realize that shopping like everything else is a learned habit. I failed to make it to the stores early on black Friday for the 10th time in a row. It is more for the curiosity rather than a need to purchase anything and that more than anything else is the reason for my laziness. This disinterest in shopping was a direct consequence of the lack of time, even shopping for necessities like grocery or clothing was considered a chore. I certainly like visiting farmers markets, it is shopping in the super markets and malls that I abhor. Though lack of time in not a problem these days but it is hard to unlearn the years of unshopping and get to shopping again. Not that I am complaining, it is a good thing for my bank account. Don't for a minute think that my family is sacrificing anything, they are not, they get what they need and more, just that they have to put up with my cribbing to shop that's all. So,
I certainly don't understand people who'd rather shop than save for college, retirement or a rainy day fund. A neighbor once walked over and complained how he had four credit cards all maxed out. These are busy people, husband and wife who are both professionals with busy careers. What surprises me most is not their maxed CCs but how they found the time to shop.
It is the Christmas season after all, so buying is what people do this time of the year. I personally like giving gift cards, if I am unsure of what the intended recipient would like. But DH thinks that gift cards convey that you don't care and did not spend time to think of the appropriate gift. Same token buying something that the person does not like is waste of money isn't?
On the other side, I do appreciate when someone gives me a gift rather than a gift card. A gift card is appreciated too but they end up being used for regular items but that is the point isn't? to use it for something useful.
I consider a perfect gift as something useful but you can still afford to live without. A serving vessel is never one too many and perhaps
this
. Now that you all know what to gift me, lets get some opinions on those gift cards.
How do you rate gift cards? Did you get any good deals on Black Friday?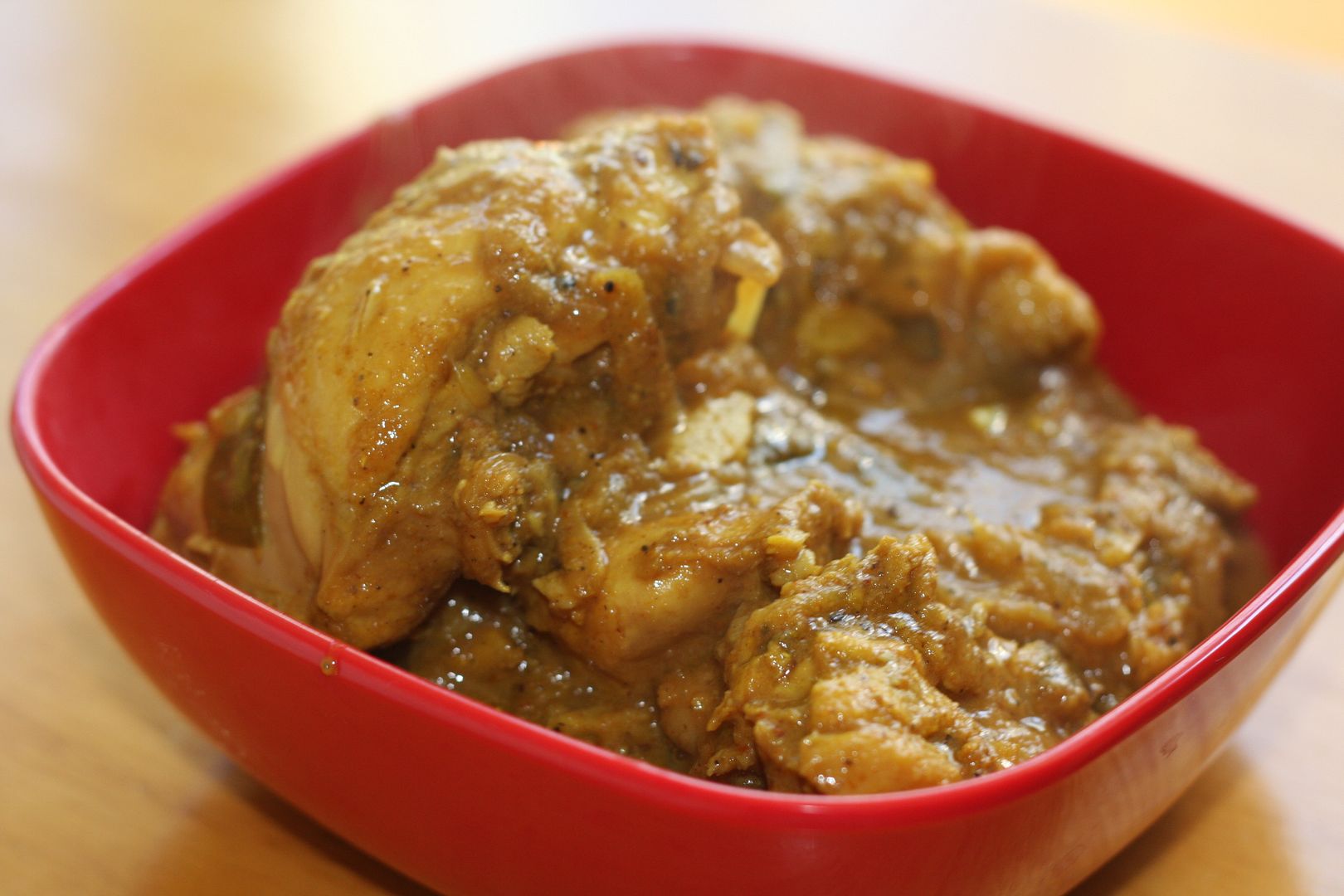 I have wondered several times if I should become a full time vegetarian. I give up the thought as soon as it comes to mind. We like our occasional chicken, fish and goat. As flexitarians eating vegetables during the week and non-veg once a week every other week seems to work best.
On days when the wind is howling outside and is cold and the tongue is yearning for something warm and spicy this chicken recipe is just what you want.



Spicy Chicken Curry




Ingredients


1. 2 lbs of chicken cut to desired size, wash and marinate with lemon juice, turmeric powder, salt and pepper powder
2. 1 Medium onion sliced
3. 8-10 garlic cloves chopped fine
4. 1 inch piece of ginger gtated
5. 4-6 green chilies slit (adjust to taste if using really hot chilies)
6. 1/2 tbsp pepper powder (adjust to taste)
7. seasonings: mustard, cumin seeds and curry leaves



for the paste


1. few cloves
2. few fennel seeds
3. star anise
4. 1/2 tbsp coriander seeds
5. 2 tbsp freshly grated coconut
6. 1 tbsp onion or 6-8 pearl onions

Dry roast the whole spices, cool and transfer to the blender. Saute the onion in a tsp of oil and when brown add the coconut and stir.
Powder the spiced first and then add the onion and coconut and blend without adding too much water. Set aside



Method



1. In a kadai add oil and season with spices. Add the onions and saute till translucent.
2. Add the slit green chilies, garlic and ginger and saute for a minute
3. Add the chicken and remaining pepper powder let it cook covered for about 8-10 minutes, till the chicken is almost cooked.
4. Add the ground paste and salt and let it simmer for 5-6 minutes more or longer till desired consistency is reached.

Do not add any extra water.