U.S. Teens Rank Lower In Math And Science Compared To Other Teens Abroad
- i was listening to this program on our local NPR radio station this morning. While this is concerning in itself there is another facet of the US education which is perhaps unique and I hope never changes due to some education reform or another. What sets it apart is the appreciation for innovation and creativity which are highly valued. Being Indian and ahem Asian another facet of the education that caught my attention almost immediately is the encouragement by teachers to think critically and the understand that the teacher is not necessarily the final authority and the students are given the leeway to question the teacher's assumptions. This is the exact opposite of what happens in most Asian countries where the teacher is the final authority right or wrong. I won't comment on education in other European countries of which I have no first or even second hand experience. Readers chip in. Students never question the teacher and most times does not have the skills or the encouragement to think out of the box. What is in the textbook is final. Critical thinking is not openly encouraged.
This probably explains why most Asians are reluctant to question authority even when they know they are right. In the work place we are always afraid of losing the job or a promotion opportunity and suppress opinions even when positive we are right. The management knows that they can count on these employees not to open their mouths if a stupid decision is taken. Is it the education system or is it the social culture that has made people doormats. But once the authority figure is out of earshot opinions tumble out like water in Niagara Falls. Why do you think this is so?
Now the recipe,
This recipe was inspired by a recipe that Sanjeev Kapoor cooked on Rachel Ray's morning show on TV. They were a max of 6 ingredients, day old rice, tomato pickle, shrimp,cumin seeds and coriander leaves. I rarely have day old rice when in a mood to cook fried rice. What works best is to cook brown rice or par boiled rice in a electric rice cooker and to use it after it has cooled.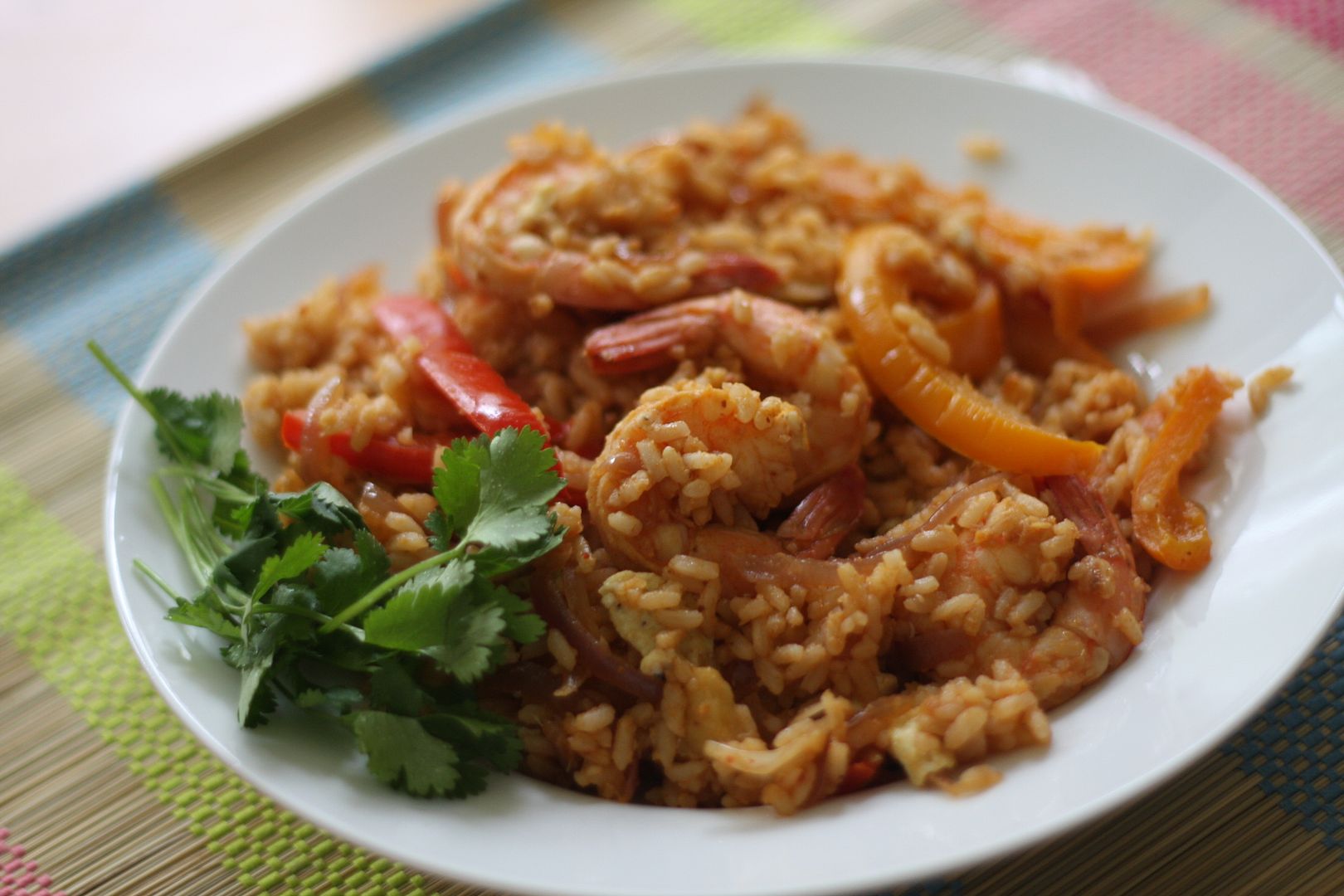 Indian Style Fried Rice
Ingredients
1. 12-16 Shrimp marinated in lemon juice, red chili powder a couple of pinches of salt and 2 tsp red chili paste (used a Thai kind) for a vegetarian version use cauliflower.
2. 2 bell peppers cut into thin strips.
3. 1/2 Medium sized onion cut into thin strips (1/2 cup worth)
4. 1 tsp of soy sauce (optional)
5. 2 tsp of Maggi chili sauce
6. 1 tbsp of mango pickle or tomato pickle
7. 2 eggs beaten with salt and pepper powder
8. 2-3 tsp of oil
9. a handful of coriander leaves
10. 2 cups of cooked brown rice
Method
1. In a wok heat the oil and when almost smoking, add the shrimp and cook them for a minute or two till it starts to turn pink, remove and set aside.
2. To same pot add the onions and saute till slightly brown followed by the bell pepper strips and let them cook till soft.
3. Add the cooked rice and mix it in. Add the chili sauce, pickles and soy sauce and mix well and let the rice heat through
4. In the meantime make scrambled eggs with the beaten egg.
5. Mix the shrimp and the eggs to the rice and after a couple of minutes turn off the heat. Garnish with coriander leaves.