I wasn't going to talk about Obama, 2 posts in a row but here I am. "Obama wins the Nobel Peace Prize" read a headline on a news website. My immediate reaction was to take a quick look at the calendar, it was not April! and then What?. But Why? The Nobel committee says it his vision for the future, rather than past achievement that deserved a Nobel Prize! Congratulations! Mr.President. We wish you all the best. I would also like to borrow
Cilantro's quote
" Lets hope `He still Can`" do what he promised when he was campaigning to be President and also fulfil the promises that so enamored the Nobel Prize committee into giving him this award.
An unseasonably warm pleasant day with a breeze and a Nobel prize for our President, what more can one ask for really?
Peanut dishes did not make a regular appearance in my kitchen until recently as part of a meal. In the unusual cases they did did it was as a snack - boiled, roasted and on very rare occasions chutney - once in a year maybe. This till I discovered blogs and in particular Andhra cooking. Peanuts I now realize hold a special place in most Andhra kitchens. They are used in gravies, chutneys, seasonings, masala and many more than I thought possible. I tasted a bell pepper gravy with peanuts in my friend's many many years ago and I assumed the creamy texture was from coconuts till she told me otherwise. Her Telgu friend had given her the recipe. I was reminded of the recipe recently when I had a few bell peppers on hand, and plenty of roasted peanuts. Used the recipe from Mahanandi,
Capsicum Curry
. Quick and very tasty recipe.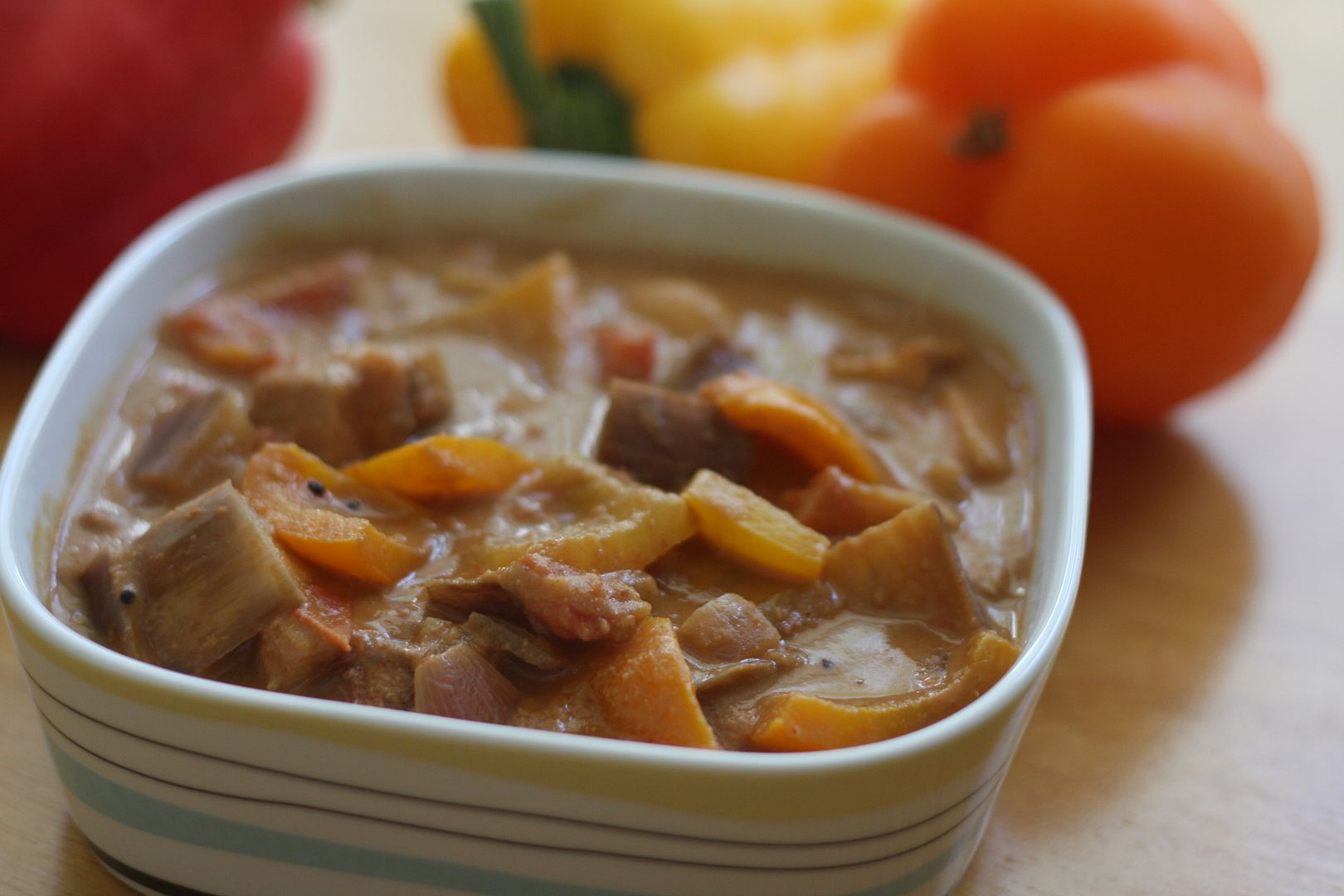 Recipe Source:
Capsicum Curry

Bell Pepper and Brinjal in peanut sauce
1. 3 bell pepper cored and cut into small pieces
2. 1 Purple brinjal chopped (1 cup worth)
3. 1/2 medium sized red onion
4. 2 tomatoes chopped fine
5. seasonings: mustard, curry leaves and cumin

For the paste
1. half a cup of roasted peanuts
2. 6 roasted red chilies
3. 1 cup tamarind extract from a small lemon sized piece of tamarind

Blend the above to a smooth paste.

Method
1. In a pan heat oil and add the seasonings. When the mustards starts to splutter add the onions and saute till translucent.
2. Add the tomatoes and saute for a couple of minutes
3. Now add the brinjals and saute till they start to turn color.
4. Add the bell peppers and saute for a few minutes.
5. Lower the heat to low medium, add the blended peanut paste and a cup of water, salt and let it cook for about 10 minutes till the bell pepper is soft.
Add more or less water depending upon consistency.

Serve with rice.