It is that time of the year, most days dawn dark and gloomy and the sky is threatening a deluge anytime. And these times ask for superhuman effort to be cheerful. On days like these I'll take anything that brings cheer. This is the time I miss acutely the drama/humanity filled life in India, the happenings and goings on in the surrounding houses, contacts with the people around, though occasionally a source of resentment or harassment it is also comforting for the easy participation in the rhythms of life. I never understood the value of these seemingly mundane everyday things till I lost it.
That simple spontaneous participation in the rhythms of life in general is what is missing most from our secluded lives here. There is no chance for unplanned contact with people unless you use public transportation. Probably explains why everyone is wary of the unknown and lot of people it seems to me have lost their ability to communicate in a non-formal setting. When people do come in contact with others instead of communicating they confront. There are weirdos everywhere, a neighbor called the cops on another neighbor because they had cleaners(noise) in their home before 8:00AM, which is apparently against the law a fact I had no idea about till i heard of the incident. The neighbor who had cops in her doorstep was the same one who had helped the one who had called the cops a week before the incident. I am as baffled as you will be.
I enjoy houses on the street which have multiple generations living under one roof and are busy places and gives a feeling of a minor dose of life back home. One house has 2 generations living in same house, the MIL and the newly married DIL take long walks and they are out and about even on a cold days. The sight itself is enough to bring cheer. The other neighbors I adore most are the dog walking who save the streets from taking a forlorn deserted look. Some of these dog walkers have friends who drive down to join them.
Having lived and watched my neighborhood closely for a decade I begin to realize that people are essentially the same everywhere. I doubt anybody enjoys nosy parkers and know it alls but people in general yearn to make the places more community than it being a bunch of houses. For a couple of years when the houses were newly built block parties and neighborhood get togethers were common place and then life took over and they were forgotten. We revived the practice last year and these block parties (for lack of a better name) have become something to look forward to. This to a large extent confirms that essential human trait - socializing. We even have a Ladies Chat in the works. We have partying and a bit of community service in the mix. No prizes for guessing the turnout for the party is higher than the community service projects but that is fine. Based on experience, people don't really care if they do not get information about the service projects but God help if they get left out of any parties. We are a pretty diverse neighborhood and it is amazing the different dishes that makes it to the table, who wouldn't be mad if they are left out. We are looking forward to the Halloween party tomorrow.
What are the fun stuff you look forward to in your neighborhood?
There are not many recipes that I know which use raw bananas, so when I saw
this recipe
on
The Yum Factor
a blog I came to know of thorough one of
PepperMill- Miri's
posts there was no going back. As I was browsing through the blog I saw the recipe and as luck would have it, had 2 raw bananas lying aimlessly in the fridge.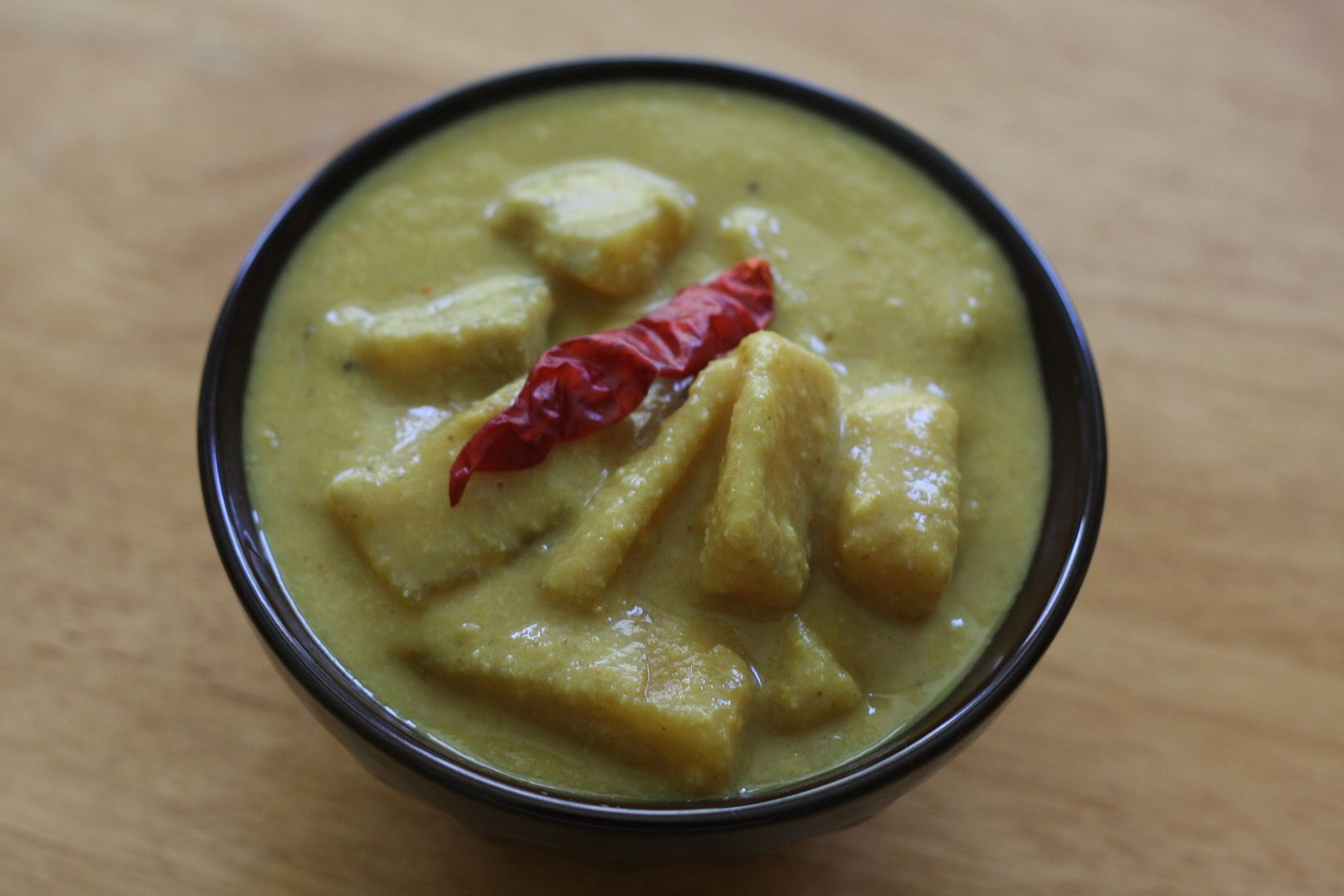 Raw Banana in coconut sauce




Ingredients


1. 2 Raw bananas, remove the skin and cut into bite sized pieces and dropped in water
2. 1/2 cup of channa dal soaked for a couple of hours and pressure cooked with a bit of oil and turmeric powder
3. seasonings: curry leaves, mustard seeds, asfoetida and fenugreek seeds



For the paste


1. 3 tbsp of grated fresh coconut
2. a grape sized piece of tamarind
3. 1/2 tbsp coriander seeds
4. 4 red chilies
5. 1/2 tsp of fenugreek seeds

Toast 3-5 and transfer them to the blender. Powder first, then add the coconut and tamarind and blend to a coarse paste. (I blended mine to a smooth paste and the texture is different)



Method


1. In a pot add the chopped bananas and cook till soft, add the pressure cooked channa dal and mix.
2. Now add the ground paste and salt and bring it a boil.
3.Now heat oil in a separate pan and add the seasonings and pour over the curry.
4. Turn off the heat or continue cooking till the desired consistency is reached.

This was a big hit and even the kids loved it. Was excellent over rice. Thanks Arch.